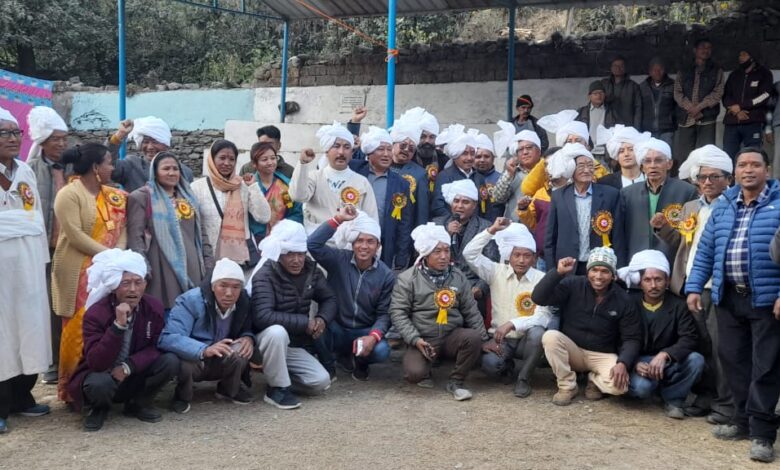 Locals agitate against two under construction power projects in Pithoragarh district
B.D.Kasniyal
Pithoragarh,Jan 17
Scared by the destruction at Joshimath reportedly due to underground tunnel of Vishnugad-Tapovan power project, villagers living near two hydro electric projects in Pithoragarh district have started an agitation opposing these projects fearing that the  construction of tunnels of these two projects could bring in disaster in future for the surrounding villages .
"Our people have decided to oppose the construction of tunnel of 165 MW Bokang- Baling hydro project being constructed by Tehri Hydro-Electric Development Corporation (THDC) in Darma valley of the district as after the constriction of these tunnels, the danger of landslides  in surrounding villages will increase," said Puran Singh Gwal, president of  Darma Sangharsh Samiti, a body formed to oppose the project at village of Ghatibagar in Dharchula tehsil of Pithoragarh district.
According to Gwal, the villagers of Darma valley will oppose the tunnel of the project after they reach their original villages during  summer migration from the month of March this year." If this tunnel is constructed in highly sensitive Darma valley, the nearby villages of Tidang, Dhakar, Bon and Philam will be affected by its construction," feared  the president of Darma Sangharsh Samiti.
Another project being opposed by villagers is a 21 Rani MW hydro project coming up in Ganai-Gangoli area of Pithoragarh district. The local people alleged that if constructed, the 4 km long tunnel of the Rani power project, from Sapteswar to Sirsoli will affect 17 villages of Pithoragarh and 16 villages of Bageshwar district.
" The 500 meters long tunnel up to Sisoli village has already been constructed, the tunnels could lead to houses  in the areas affecting 500 families of 33 villages of both the districts, " said Govind Kumar, convenor of the agitation against the project and a leader of 'Bhim Army' in Pithoragarh district headquarter.