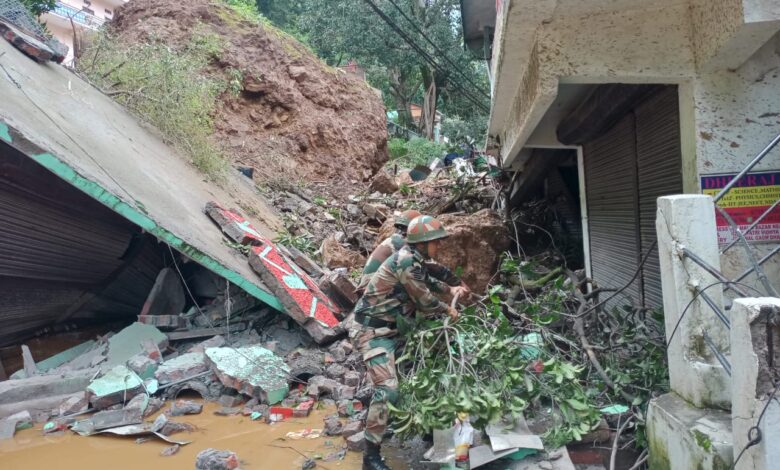 Dharchula MLA allege use of more explosives than permitted in road work
B.D.Kasniyal
Pithoragarh,Jan 16
Amidst accusations of use of explosive beyond permissible limits the in widening work of 36 km long border road from Baluakot to Tawaghat by a private company, Dharchula MLA and senior Congress leader Harish Dhami has warned that he would  not let Dharchula become another 'Joshimath' and struggle to control the use of explosives on the road work which weakens the hills.
" In the prima facie inquiry, I have found that the company is using explosives beyond permissible limits and if it continued, the highly sensitive  Aildhar landslide zone will become active and cause havoc for the Dharchula residents," charged  Dhami.
Over 6 houses were damaged and 2 were fully destroyed due to massive landslides during last year monsoon period at Aildhar." The people of Khari bazar and Kutiyal khera, who were vacated from sensitive zone due to landslide, are still in relief camps, " said Dhami.
The Congress MLA said that he has demanded from the Chief Minister that the concerned company be ordered to use minimum explosives while widening the road.
Pithoragarh District Magistrate Reena Joshi has said that the work of treatment of Aildhara zone will begin from February onwards and would be completed probably before onset of monsoon this year."The government has sanctioned a sum of Rs.20 crore for the treatment work and tender process by Irrigation department which is the nodal agency, is under process," said the DM.
Meanwhile, the work of removing debris from Kali riverbed on both sides of river bank on India and Nepal sides is on but the local people have expressed suspicion in completing the work before monsoon."Nepal has employed only one loader machine in the work that is making the work slow and people suspect it's completion before monsoon. We demand to put more machines by that country, to complete the work before monsoon this year," said Bhupendra Singh Thapa, president of Dharchula Vyapar Mandal.
The work of removing debris from river bed, specially from sensitive region of Dhatdhar in India and Bangabagar in Nepal remained disturbed due to some throwing of stones by some miscreants from across the Border for over a dozen times in last 3 month's time." We demand that the protection wall inside India, should be completed in the next 2 months time as after April, rains would start and impossible to continue the work, " said Thapa.