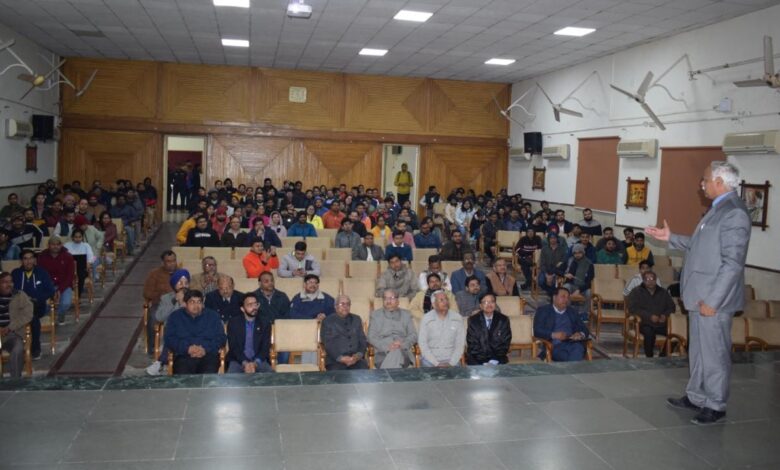 Road safety, everybody's concern: 'Padma Shri' Dr. B. K. S. Sanjay
Dehradun , Jan 18
On the occasion of 33rd National Road Safety Week, senior orthopaedic and spine surgeon and Padma Shri awardee Dr. B. K. S. Sanjay along with Dr. Gaurav Sanjay of Sanjay Orthopaedic, Spine and Maternity Center, Jakhan, Dehradun in collaboration with SHEWA voluntary organization conducted many awareness programme on road safety at many places during the past one week. The programmes, as done in the previous years, were conducted at Government Doon Medical College, Himalayan Ayurvedic University, Dehradun, All India Radio and Doordarshan. Both ,these father-son due of orthopaedic surgeons have given more than 200 free public awareness lectures which has been mentioned in 'India Book Records' also.
During the address to the students of Government Doon Medical College , Padma Shri Dr. B. K. S. Sanjay said that according to his clinical research 90 percent of road accidents are due to the negligence of the driver and negligence is a behavioral problem on which he would like to draw the attention of the policy makers and the enlightened people of the society.
He further said that the behavior of the driver should be changed whether it is through counseling or through punitive action because the main causes of road accidents are over speeding, overtaking, driving under the influence of alcohol or even driving despite having physical and mental fatigue. Night incidents are fatal and keeping this in mind all unnecessary journeys should be avoided at least during night. Road accidents can be reduced by the provision of speed governors in vehicles to control the speed, he added.
Dr. Gaurav Sanjay said that the youth are the future of the country but unfortunately about 70 percent of road accidents affect the age group of 15-44 years, making  the youth most vulnerable. During the lecture, Dr. Gaurav Sanjay appealed to all the faculty and students to learn the traffic rules and follow them honestly. He advised that two-wheeler drivers should use good quality helmet while driving and four-wheeler drivers should use seat belts. He further said that seat belts should be worn not only by the driver but by all the occupants of the vehicle.
Dr. Gaurav suggested that the way safety belt is arranged for each passenger on every seat of airplanes and it is mandatory for all passengers to wear it, In the same way, he believes that keeping in view the seriousness of accidents in buses, there should be provision of seat belts in public buses and especially in school buses.
Under this road safety campaign, Padma Shri Dr. B. K. S. Sanjay, Orthopaedic Surgeon, Dr. Gaurav Sanjay and their team have covered and made aware the students, teachers and faculties of different schools, degree colleges, engineering, medical, paramedical colleges and universities in local and remote areas of the state and the country about road safety and taken a pledge to follow the traffic rules in the public interest.
Dr. Sanjay expresses his gratitude to Dr. Ashutosh Sayana, Principal, Government Doon Medical College, Dehradun, Prof. J. P. Pachauri, Vice Chancellor, Himalaya Ayurvedic Medical College, Dehradun, Prof. K. K. Pant, Director, IIT Roorkee, Prof. Pravin Kumar and Prof. Satyendra Mittal for giving an opportunity to deliver an awareness lecture.