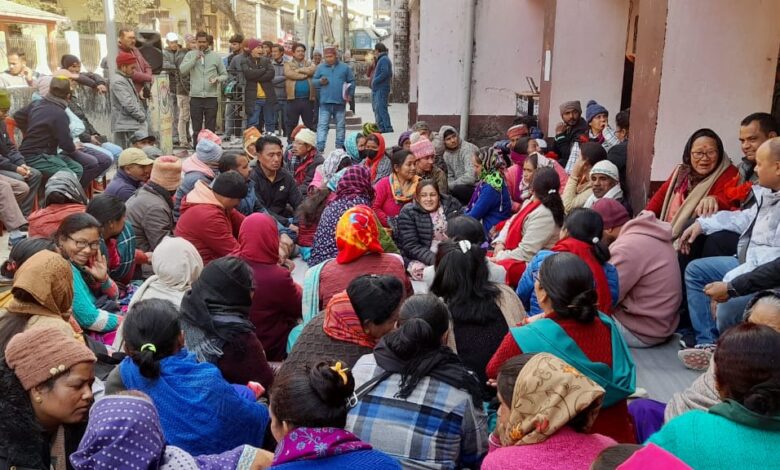 Alleging discrimination with disaster affected people of Pithoragarh by state govt., Dharchula Cong legislator holds protest dharna
B.D.Kasniyal
Pithoragarh, Jan 19
Alleging discrimination with the disaster affected families of Dharchula, Munsiyari and Bangapani sub divisions of Pithoragarh district by the state government, Congress MLA from Dharchula, Harish Dhami, sat on one day long protest Darna at Dharchula sub-division administrative office campus on Thursday.
"We have handed over a memorandum to state government through Sub-Divisional Magistrate (SDM), Dharchula today and have demanded that over 120 villages of all the three sub divisions have been affected by natural disasters from past many years regularly but no rehabilitation package has been announced by the state government till date," charged Harish Dhami.
The Congress MLA from Dharchula said that, the state government has not yet given any relief package to disaster affected villagers of Khotila, Dharchula Dehat and Ailagar affected in natural disasters last year and due to  neglect by state governments, over 50 families are still living in relief camps being run by the district administration.
" We have also requested the state government that protection walls be constructed along the banks of main rivers of Kali, Gori, Bhujgarh, Jhapuli, Ramganga, Dhauliganga and Jamuna, that flows in all three sub- divisions of his constituency to check cutting of earth by these rivers and checking landslides that  affect over 40 villages situated along the banks of these Himalayan rivers.
" We also have demanded a relief package for Dar and Chalma and Chilaso villages of Darma valley which had faced the same fate as that of Joshimath, " said Dhami.
The Congress MLA also blamed the Hallways construction company,  that is widening the Pithoragarh -Tawaghat highway from Balakon to Tawaghat, of using dynamite to blast hills beyond permissible limits and starting stone crushers illegally in the region. " This activity is weakening the soil in the area that might result into landslides in coming days," said Dhami.
Refuting the charges of excessive use of explosives by construction agency, Border Roads Organisation (BRO), the nodal agency of the road widening work has said that barest minimal explosives required technically are being used by the construction agency.
" As far as the allegations that Aildhar land slide last year was caused partially by road construction work, we have to say that it has nothing to do with road construction activity and landslides were activated due to multiplicity of construction f houses above and below the road stretch. The problem aggravated due to improper drainage of waste water from these houses," said Vimal Goswami, Chief Engineer of 'Hirak' road project of BRO, the nodal agency of road widening work.