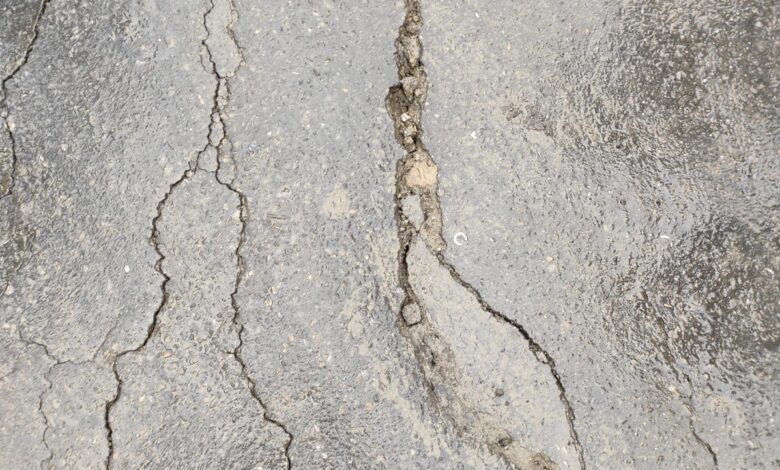 Cracks appear on Badrinath highway, tremors jolt Uttarakhand
S.M.A.KAZMI
Dehradun, Jan 24
After the disaster in Joshimath town which is facing an uncertain future due to sinking and dangerous cracks in the buildings leading to evacuation of residents, cracks on the Badrinath  highway has added to the difficulties of Uttarakhand government.
An earthquake also jolted Uttarakhand  at 2.20 pm today. Tremors were felt all over the state including disaster hit Joshimath forcing people to rush out of their homes. But no loss of life or damage to property was report in the state. The earthquake with a magnitude of 5.8 at richter scale had its epicentre in neighbouring Nepal.
Cracks have appeared on the road leading to famous Hindu shrine of Badrinath from Joshimath town. Some cracks have also been noticed in the main market of Joshimath town also. The road is the main highway going towards Badrinath temple which attracted more than 15 lakh pilgrims in the yatra season of 2022.
The state government has said that any decision on the cracks of highway would be taken after the reports of various scientific institutions on Joshimath land subsidence are received. The scientists of various scientific institutions are investigating the causes of land subsidence but have been  directed not to share any information with the media. The state government had requested them to submit their reports and suggestions within a fortnight.
Dr. Ranjit Sinha, Disaster Managament, Secretary, Uttarakhand said on Monday that any decision on cracks in the highway would be taken after the reports of scientific institutions are received. He ,however, said that the cracks have not widened on the road.
Meanwhile, Himanshu Khurana, District Magistrate, Chamoli said that Central Building Research Instititute(CBRI) is building pre-facricated  huts of one, two and three BHK for the Joshimath victims  on the land located near Herbal Research and Development Institute (HRDI). He further said that the administration is also contemplating several options for the permanent resettlement of the displaced. There could be option to pay them compensation money for settling any place of their choice or to provide alternative land to them to build their houses.
On the other hand,  the affected women population of Joshimath town continued their dharna today in support of their demands. Indresh Maikhuri, secretary of CPI(ML) who is part of their agitation said that the affected women demanded that they should be rehabilitated near Joshi math and at such places which has been suggested by  'Joshimath Bacchao Sangharash Samiti' spearheading the agitation.
More than 200 women in a signed petition to the administration said that they would continue their agitation till their genuine demands are met. They propose to intensify their stir from January 26, 2023.