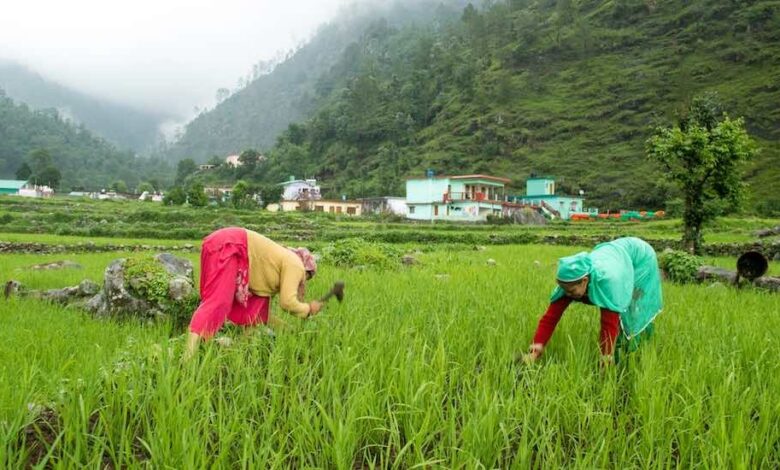 After failed soyabean experiment, 'Mandua' (Finger millet) is being promoted in the 'year of millets'
B.D.Kasniyal
Pithoragarh, Feb 14
After the failed experiment of the eighties to promote cash crop of soybean in a bid to make hill agriculture economically viable, it is now finger millet cereals, that are being purchased under Minimum Support Price (MSP) by the state cooperative department in order to save traditional crops of hills under the national food security mission this year which is billed as the year of "Integrated year of millet."
Under a cash crop promotion scheme, launched by the then UP government, soyabean crop was promoted in such way that a soyabean processing plant was established at Halduchaur near Haldwani. At that time, the farmers abandoned  finger millet as khariff crop and adopted soyabean but in later years the processing of soyabean stopped after the factory was closed due to shortage of required quantity of soyabean.
" We have a sore experiment of that era, we donot want to happen that this time as well," said Prahlad Singh, a finger millet farmer in Nachni region of Munsiyari, who sold one quintal of finger millet to cooperative department, this year.
"We have  5900 hectares under millet crop this year, we plan to increase that to 6500 hectare this year. The millet (Madua) is main crop kharif crop in the district, mainly grown in four blocks of Gangolihat, Munsiyari, Berinag and Didihat," said Ritu Tamta, Chief Agriculture Officer of Pithoragarh.
Besides Madua, the finger millet, other crops being promoted worldwide under food security scheme, are Sorghum, pearl millet, foxtail millet, maize and other traditional millets.
The programe to promote millet crops was launched at the national level by Prime Minister Narendra Modi on December 20, last year in New Delhi, where the participating dignitaries were served dishes of traditional crops including  three dishes of Madua namely  'Ragi roti', 'Ragi dosa' and  'Ragi halwa'.
"With this promotion, the tourists coming to hills now demand preparation of 'Pahari' millets in tourist houses, " said Dinesh Gururani, a KMVN manager.
"Finger millet has been the main crop in our region as it used to be consumed by all classes of society in order to save wheat and paddy crops, which were sold in markets or exchanged with Sauka traders to get salt or other goods from market or get cash to pay land revenue," said Padma Datt Pant, a cultural historian of eastern Kumaon region.
Chandra Singh Pangti, Assistant Registrar, cooperative committees in Pithoragarh district  has said that out of a total 9000 tonnes of finger purchase target given by government of India to Uttarakhand, the state has this year purchased a total of 14000 quintal of millet including 167.91 quintal in Pithoragarh district at a cost of Rs.35.78 per kg. " The purchases are being done by Uttarakhand cooperative federation under instruction from Government of India, for the use  in PDS scheme later," said Chandra Singh Pangti .
According to the officer the district was given a target of 1500 tonne of Mandua to be purchased by 15 purchasing centers ." The purchase this year was much higher than that of last year as last year only 25 quintal was purchased," said Pangti.
"It is good scheme, but the benifits to farmers and villages could only be possible if the scheme continue for coming years," said Mahendra Singh Lunthi, a senior Congress leader and former vice chairperson of the state cooperative council.