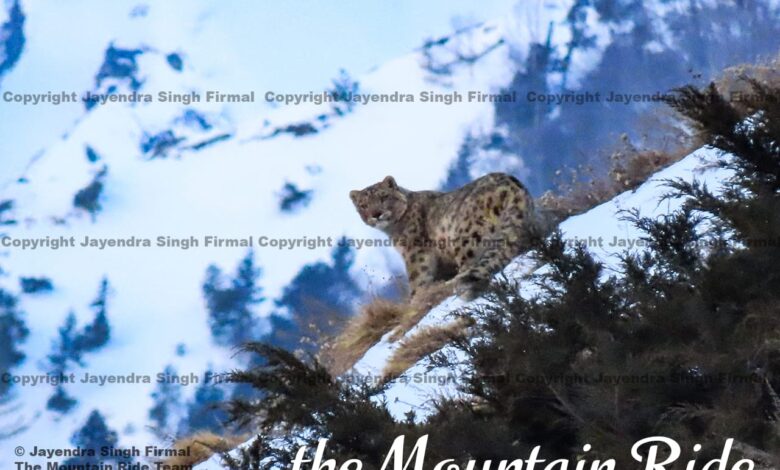 Snow leopard caught on camera in Darma valley of Pithoragarh
B.D.Kasniyal
Pithoragarh, Feb 15
A snow leopard has been sighted and captured on camera in Darma valley of Dharchula range of Pithoragarh district of Uttarakhand state for the first time on February 4th this year, according to Pithoragarh District Forest Officer (DFO), Mohan Dagare.
"The lone leopard was sighted by team of 'Mountain ride' that has been searching for snow leopard in Darma valley from past six years. The 'Mountain Ride' team comprised Jayendra Singh Phirmal, Dinesh Bangyal and Soni Hyanki,. said the DFO.
The team clicked the photos of snow leopard from a distance of 20 meters." The snow leopards, having their habitat at more than 12000 feet high Himalayan region was photographed above the snow terrains of Dar village of Darma valley in the winter as it had came down due to heavy snowfall on the higher reaches, the summer habitat of snow leopard," said the DFO.
According to the people who organise adventure tours to high Himalayan region, the snow leopards were also became visible in the region in the past in Kumaon region  but could not be photographed due to lack of good cameras."In last six years of our search  for snow leopards, we sometimes came in contact with family of snow leopards but could not click them due  to lack of good cameras. However, this time our team reached the spot before the snow leopards descends from their natural habitat," said Jayendra Singh Phirmal, group leader of 'Mountain Ride' team.
The snow leopards have also been spotted before in Nanda Devi range of Garhwal Himalayaa, Himachal Pradesh and Laddakh region." With this recording of leopard, Darma valley has now entered into the list of those Himalayan regions , where the numbers of snow leopards is growing," claimed Mohan Dagare, DFO, Pithoragarh