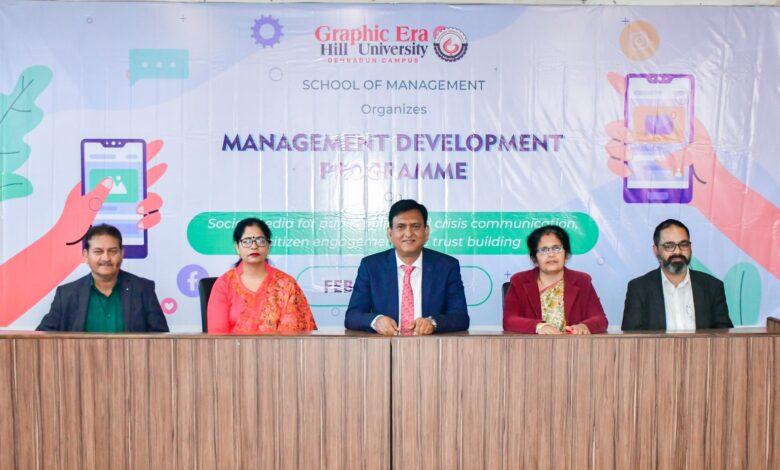 Officials learn effective social media skills in Graphic Era Hill university
Dehradun, February 24
In order to use social media as a instrument of progress and development, officials  from 21 government departments of the state government learnt special skills at Graphic Era Hill University at a two-day training programme which started on Thursday. The programme will focus on imparting skills for effective and positive use of social media.
Inaugurating the programme, Director General, Graphic Era Deemed University, Dr. Sanjay Jasol, said that in the two-day workshop, government officials will learn how to use social media and Internet  more effectively. Citing the example of Kodak, he said that those who do not upgrade themselves with time and fail to learn new technologies, eventually perish. "Today, having presence in social media is a necessity and government officials must be aware of the effective use of social media for maximum publicity of government policies and to reach out to the general public, " he added.
Dr Subhash Gupta, Director, Infrastructure, Graphic Era,  said that social media can on one hand be used  to make people aware about public policies and in times of disasters and natural calamities it be used to inform and alert people and government machinery on time. In February 2021, a viral video of flooding  Rishi-Ganga and Dholi river not only alerted the people, but helped government to take preventive actions in time.
Shyam, faculty of School of Management and convenor of the training programme, explained to the participants the process of creating organic and paid social media pages of their departments on social media. He emphasised the sensitivity analysis and text mining of the comments of people's comments on social media and said that the reviews such comments can be analyzed properly and used for image building of the departments. In the second session,  Jitendra Chauhan gave a presentation on the extraordinary work done by the government departments through proper use of social media.
Government officials working in 21 departments of the state government, like Rural Development, Sericulture, Agriculture and Jal Vidyut Nigam are participating in the training programme. The programme was coordinated by Ms. Shweta Chauhan. Vice-Chancellor, Graphic Era Hill University Dr. R. Gauri, Head, School of Management, Dr. Roopa Khanna, Dr. Himanshu Kargeti, Dr. Ajay Saini, Smita Kothari and other faculty members  also remained present.