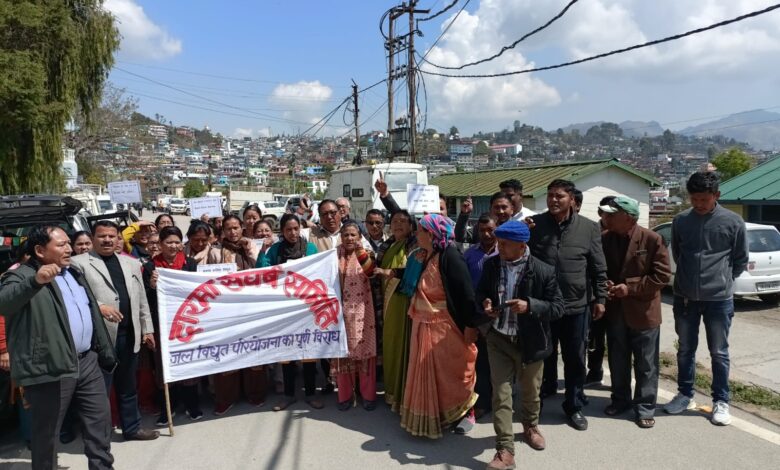 Locals up in arms against proposed hydro-electric projects in Pithoragarh district
B.D.Kasniyal
Pithoragarh, March 25
The people of Darma valley are up in arms against the proposed hydro-electric projects in the area. The local people are agitating against two proposed hydro-electric projects in the district. The people of Darma valley, in Dharchula sub- division of Pithoragarh district demonstrated at the district headquarter today against a 165 MW hydro-electric scheme proposed at Bokang and Baling villages of the valley. Similarly, the people of Ganai Gangoli village of Gangolihat sub- division are also demanding closure of the 20 MW hydro electric scheme coming up in their area.
"If 165 MW capacity Bokang Baling Hydro-electric project will be constructed in highly sensitive Darma valley, several villages below it will have a similar fate as that of Joshimath in future, that is why we have reached the district headquarter to demonstrate against it and inform the people of the district that they should also come up with us," said Puran Singh Gwal, president of Darma Sangharsh Samiti, an organisation of all 14 villages of Darma valley, formed to oppose these projects.
The project at survey stage presently, will be constructed by Tehri Hydro-electric Development Corporation (THDC0.
" The construction company has opened it's office in the valley and has also constructed a 30 meters long tunnel for testing of soil. if the work is not stopped immediately, the villagers of border villages at Indo-China border will prolong their struggle to oppose it," said Shakuntala Datal, a social worker of Dantu village of Darma valley and leader of the agitating villagers.
"The villagers have submitted a memorandum to me in this connection to the  Uttarakhand state overnment," said Reena Joshi, District Magistrate, Pithoragarh.
Another Hydro-electric project of 20 MW, Khutani project being constructed by a private company in Ganai village of Gangolihat sub- division of the district, is also being opposed by local villagers on the ground that due to construction of tunnel of the project several houses  in the village have developed cracks.
" The project is being constructed at mid part of Sirsoli village and blasts are also being carried out for the construction of the tunnel, due to which, the houses of the villages are witnessing cracks," said Govind Baudh, a local villager.
Another villager, Amit Purrani, in a memorandum submitted to Sub-Divisional Magistrate (SDM), Berinag has demanded that the affected families be shifted to safer places soon and blasting should be stopped immediately." If the affected families were not be shifted soon, the agitation against the project will be intensified," said Purrani.