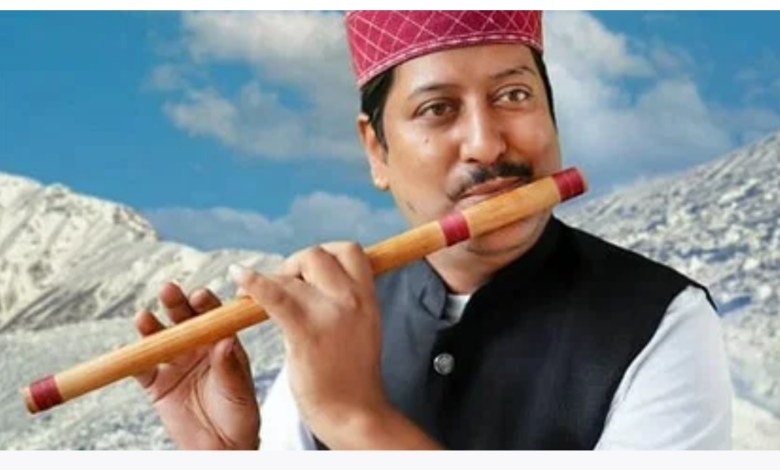 Famous Kumaoni folk artist Mohan Joshi to perform with traditional musical instruments at G-20 meeting at Ramnagar.
Prem Prakash Upadhyay
Bageshwer, March 30
Guests from abroad attending the three-day G-20 round table meeting being held at Ramnagar would be able to enjoy the traditional Uttarakhand musical instruments and famous folk tunes like "Bedu Pako Baromasa'
Famous flute player Mohan Joshi, a native of Bhayedi village of Bageshwar district will present folk tunes on flute and 'Binaai', traditional folk instrument of the state. Besides he will also entertain the guests from India and abroad with the beat of 'Hudka'another instrument  made by him.
Mohan Joshi, who was fond of playing flute since childhood, has earned a name for himself  for  flute playing. Apart from various states of the country, he has also performed abroad also including Dubai, Mauritius. Mohan himself makes flute and 'hudka' and also trains foreign students to play these instrument through online courses. He has been invited for the Ramnagar meeting.
Mohan Joshi said that it was  a matter of great pride for him and he has composed many tunes based on 'Raag Pahadi' for the programme. He will present the main folk songs of the state including 'Bedu Pako Baramasa', 'Kaile Bajai Muruli'… etc. on flute and 'Binaai' in the function. He will be accompanied by 'Hudka' player Shambhu Dutt, Tabla player Ashok Andola, Keyboardist Amar Sabharwal, Guitarist Manish Pant and Deepak Tripathi.