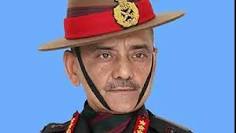 CDS Gen. Anil Chauhan visit Pithoragarh
B.D.Kasniyal
Pithoragarh, April 8
Amid Chinese activities of changing some Indian names into Mandarin, at Indo-China border along Arunachal Pradesh, Chief of Defence Staff Gen Anil Chauhan visited Pithoragarh on  April 7,2023,according to state government officials.
" The officers of the Pithoragarh district civil administration also reached the Airport to receive the guest as we had received the letter informing us of his arrival," said Phincha Ram Chauhan, Additional District Magistrate(ADM) of Pithoragarh.
According to the officer,the CDS stayed for a night at Pithoragarh and left for New Delhi today.However army sources refused to give any detail about CDS's visit.
Meanwhile, after state government's announcement that the Naini- Saini Airport of Pithoragarh has been handed over to Indian Air Force (IAF) for maintinence, the work of installing precision approach path indicator,(PAPI) lights has started at the Airport." After the installing of PAPI lights, it will be easy for aircrafts to land at night or low visibility," said Reena Joshi, District Magistrate, Pithoragarh.
The DM said that the PAPI lights are part of the works to be done by civil administration before the management of airport is taken over by the IAF.