Featured
National
Uttarakhand
Those who read, they grow:  Padma Shri Dr. B. K. S. Sanjay
Panel discussion of "Uphar Sandesh Ka" held on World Book Day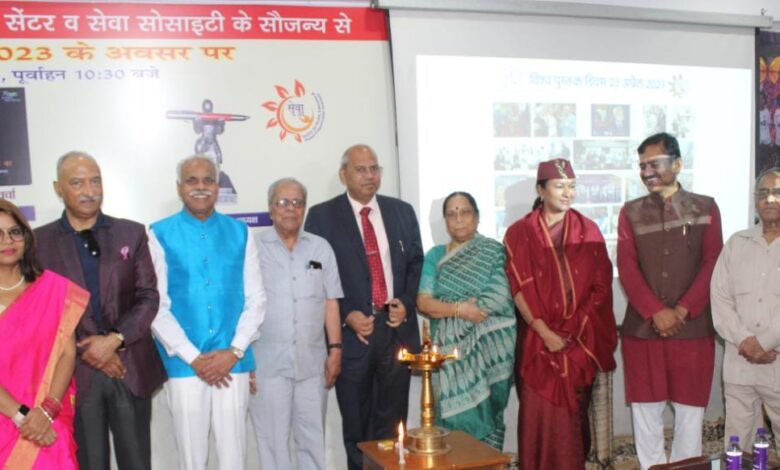 Those who read, they grow:  Padma Shri Dr. B. K. S. Sanjay
Panel discussion of "Uphar Sandesh Ka" held on World Book Day
Dehradun ,  April 24
On the occasion of World Book Day, Sanjay Orthopaedic, Spine and Maternity Centre and SHEWA Society organised a panel discussion on a poetry book "Uphar Sandesh Ka" written by Padma Shri recipient Orthopaedic and Spine surgeon Dr Bhupendra Kumar Singh Sanjay and published by Vani Prakashan. The author of book Dr. B. K. S. Sanjay said that people should inculcate the habit of giving books as gifts because books are the creators of many generations."Those who read, they grow," he added.
Chief guest Prof. Onkar Singh Vice Chancellor, Veer Madho Singh Bhandari, Uttarakhand Technological University, expressed his concern that presently Google and social media have taken the place of books and  youth are losing their original thinking and creativity.
Guest of honour IAS Additional Chief Secretary Uttarakhand Radha Raturi extended hearty wishes to Dr. Sanjay, his family and all the guests on World Book Day and said that books should be a part of every person's life.
Former Director General of Police, Uttarakhand  Anil Kumar Raturi IPS and writer of recently released book "Bhanwar ek prem kahani" said that, the beauty of emotion is very well seen in Dr. Sanjay's poems which seems to be based on some scientific facts. He said that writers write their books and after that their book serves as a philosophy of human life and "Uphar Sandesh ka" is one of them. Senior critic from Delhi Janardan Mishra said that the sensitivity, struggle and compassion and concern towards society is very well depicted in Dr. Sanjay's poems such as "Failav", "Bhook"and "Pustaken".
Senior Writer and scholar  Sudha Rani Pandey, former Vice-Chancellor, Sanskrit University, Haridwar said that the way conflict between the happiness and sorrow of the village house and the comfortable big house in the city has been depicted in a poem titles "Ghar" is definitely a feeling that will provoke the thoughts of the readers. Senior critic and poet Aseem Shukla emphasise that 'Uphar Sandesh Ka' as a collection of poems written with full discretion and fearlessness. The rhythm and dynamism of Dr. Sanjay's poems do not remain untouched by human consciousness.
Rajya Sabha translator Dr. Darshani Priya said that most of Dr. Sanjay's poems are not only poems but also a philosophy. Dr. Navani said that books should be read, respected and loved by everyone because books make our lives. Bhagirath Sharma said that the sentiments of Dr. Sanjay's poems inspire everyone. Sanjay's poem Namaskar inspires a familiar stranger to be humble. Dr. Yogendra Nath Sharma "Arun" said that books work like a mother who nurture the better society. The poem "Mamatwa" depicts the concern and compassion of poet towards the society.
The host Dr. Gaurav Sanjay thanked all the guests and dignitaries and participants. The dignitaries Padma Shri Kalyan Singh Rawat, Padma Shri Basanti Devi, Padma Shri Ajita Srivastava, Padma Shri Basanti Bisht, writers- Ambar Kharbanda, Ram Vinay Singh, Jasveer Singh Halder, Sushil Upadhyay, Arun Pathak, AIR announcer Anil Bharti expressed their views about the book. In addition to the students and general public, Sanjay Nautiyal Parshad, Shiv Mohan Sing, Dolly Dabral, Tara Chand Gupta, Neelu Goyal, Vijendra Singh, Dr. S. N. Singh, Sachin Jain, Madhu Jain, Yogesh Agrawal and many other were present.