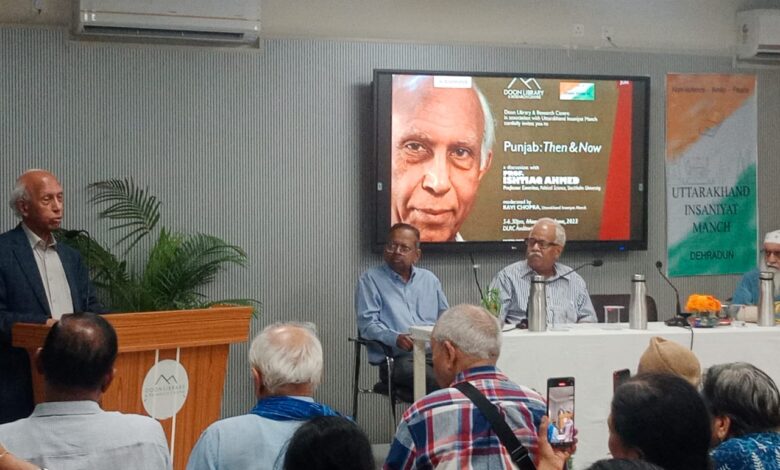 Wrong that Jinnah would have accepted Subhash Chander Bose as his leader to avoid partition: Prof. Ishtiaq Ahmed
S.M.A.KAZMI
Dehradun, June 20
Professor Ishtiaq Ahmed, an eminent political scientist and Emeritus Professor, Stockholm University, Sweden of Pakistani descent has refuted the claim that founder of Pakistan Mohammad Ali Jinnah was willing to accept Subhash Chander Bose as his leader and partition could have been averted had he been alive.
Prof. Ishtiaq Ahmed who was in Dehradun on the invitation of Doon Library and Research Centre told this correspondent that it was not true that Jinnah would have accepted Subhash Chander Bose as his leader and avoided partition.
He said that Subhash Chander Bose left the country in 1941 and all the events leading to partition of united India resulting in the formation of Pakistan took place after he had left the country.
Earlier few days ago, India's National Security Advisor (NSA) Ajit Doval delivering first Subhash Chander Bose lecture organised by Associated Chambers of Commerce and Industry of India (Assocham)in New Delhi on June 17 had said that If Subhas Chandra Bose had been alive, India would not have been partitioned.
The NSA had said that Netaji showed a lot of audacity at various stages of life and he even had the audacity to challenge Mahatma Gandhi. "But Gandhi was at the prime of his political career and when Bose resigned and came out of the Congress, he started his struggle afresh." . "India would not have been partitioned if Subhas Bose was there. Jinnah had said I can accept only one leader and that is Subhas Bose," Doval said.
Prof. Ishtiaq Ahmed delivered a talk on 'Punjab: Now and Then' quoting from his two celebrated books namely "Punjab: Bloodied, Partitioned and Cleansed" and "Jinnah: His Successes, Failures and Role in History" to a packed audience at the Doon Library on Monday evening.
He said that it was the insistence of Jinnah coupled with the colonial British design to create a Muslim state in the North West of India to checkmate the growing influence of communist Soviet Union which resulted in the partition of the country and unmitigated suffering to millions of innocent people. Prof. Ishtiaq Ahmed who has done seminal work on Punjab partition in documenting the tragic events of 1947 in his book "Punjab: Bloodied, Partitioned and Cleansed" further said that it was perhaps one of the biggest tragedies of humanity where nobody took responsibility of the massacre of nearly 7.5 million people and displacement of entire communities on both the sides of the Redcliffe line. "Not even a single case was filed in connection with the tragedy. There has been complete official silence on this issue," he lamented
Quoting from British official documents and speeches and actions of Mohammad Ali Jinnah, he made it clear that after the detention of Congress leaders following "Quit India" movement of 1942, it was a free run for Jinnah to influence and get Pakistan with the tacit support of Britishers particularly its' military.
Prof. Ishtiaq Aahmed said that it was wrong to state that Mahatma Gandhi and Congress leaders were solely responsible for the partition of the country. Giving numerous instances of his speeches and actions, he said that Jinnah was out and out for partition.
He said that Jinnah when asked about the fate of Muslims left in India at Kanpur said in anger that he would make two crore Muslims taste martyrdom and be smashed in order to liberate seven crore Muslims.
"The support which Jinnah promised to Britishers and west before the formation of Pakistan to check "atheist" Soviet Union has again in play during the Afghanistan war in which Pakistan was used and are suffering the consequences," he said.
During the question answer session that followed his talk, when asked about the frequent defeat of Pakistani army in wars with India and the perception of common masses, Prof. Ishtiaq Ahmed said that nobody believe that they had been defeated in a fair war.
" It is the indoctrination carried out in the text books which influence the public perception which had also been pointed out by noted Pakistani historian K.K. Aziz in his work," he said.  Prof. Ishtiaq Ahmed cautioned against any such attempt to distort and falsify history in india.