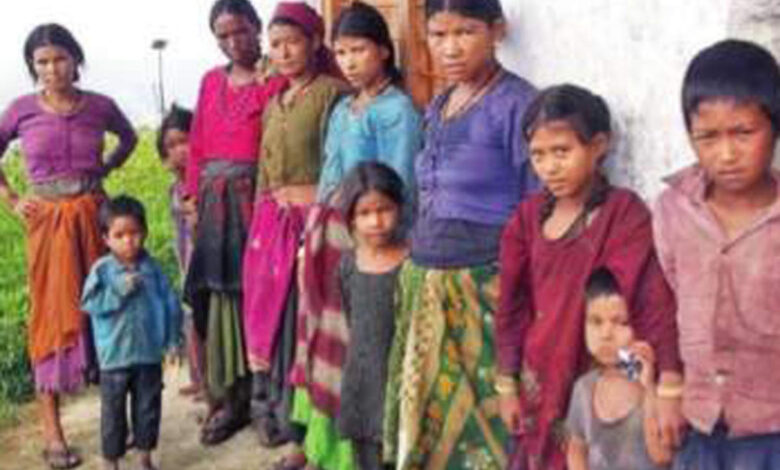 Rise in population of endangered 'Ban Raji' tribals of Uttarakhand
B.D.Kasniyal
Pithoragarh, June 17
The number of 'Ban Rajis' or 'Ban Rawats', an endangered  declining tribal group of Uttarakhand, has started showing an increasing in its' population in their localities in Pithoragarh, Champawat and Udham Singh Nagar districts.
"We have conducted a survey in all nine villages of 'Ban Rawats' living in Pithoragarh,(Khirdwari village of Champawat not included)  in December 2022, and found that  their population that has been last counted at 850 in last census held in 2011 has gone up to 1079 in all 222 households of nine localities of Pithoragarh district," said Renu Thakur, Director of 'Arpan',  a local voluntary group working amongst the 'Ban Rawat' community from last 30 years.
According to Thakur, their survey found 856 'Ban Rawats' living in Didihat, Kanalichina and Dharchula sub-divisions of Pithoragarh district, 158  in Champawat district while 65 people are living in US Nagar district of the state.
"It could be called an increase in their birth rate as we could achieve it by making the community exposed to institutional deliveries like taking services of ASHA workers, taking mainstream medical services and persuing them to intimate with other communities in  their neighbouring villages," said Renu Thakur.
These better health measures in the localities of 'Ban Rawat' have helped check deaths of newly born at child birth." Earlier, the 'Ban Rawats', did not show their newly born babies for months to everyone, due to traditional taboos, has now started taking help from ASHA workers in treating newly born babies," said Thakur.
Asked if the livelihood conditions of the tribe has also improved in all these years, Thakur said that the 'Ban Rawats', who only used to work in the agricultural fields as labourers have now started working as labourers in other construction sites but still work in the agricultural fields in season, said Thakur.
The 'Ban Rawat' community, who are considered descendents of the ancient 'Kirat' community ethnically are facing danger of existence due to been shy with the other  mainstream societies, as their language, culture, occupation and ethnicity are distinct from other ethnic groups of Kumaon region.
According to Thakur, the population  of 'Ban Rawat' community in Pithoragarh district was  371 in the 1961 census. Gagan Rajwar, a 'Ban Rawat' tribal was elected as first legislator from the community in the first ever election held in Uttarakhand in 2002 from Pithoragarh district. He was again re-elected in the 2007 state assembly polls.