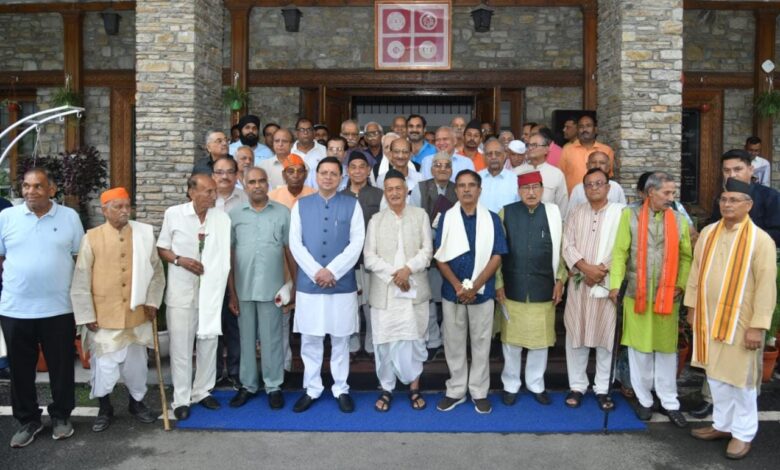 Dhami announces enhanced pension for 'democracy warriors'
Dehradun , June 27
Uttarakhand Chief Minister Pushkar Singh Dhami has announced to enhance the pension amount of the 'democracy warriors' of the state. At a function held at his official residence here on Monday  to honour 'democracy warriors', he said that a notification in this regard has been already been issued by the state government. He further said that the pension amount to 'democracy warriors' has been enhanced from present Rs.16000 per month to Rs. 20,000 per month. The dependents of such warriors would also be eligible for pension, he added.
'Democracy warriors' are those who underwent jail terms during the 1975 emergency imposed by the then Prime Minister Indira Gandhi in the country. Speaking on the occasion , Dhami said that it was an honour and privilege to honour those who sacrificed so much to safeguard democracy in the country and the people would always be indebted to these warriors.
Chief Minister said that the value of democracy was felt when it was snatched in 1975 and it was struggle by the common people, students and political activists which revived the spirit of democracy under the leadership of Jay Parkash Narayan and senior leaders like Nanaji Deshmukh and Atal Bihari Vajpayee.  He further said that the country under the dynamic leadership of Prime Minister Narendra Modi has established its' stature in the comity of nations.
Former Uttarakhand Chief Minister and former Maharashtra Governor Bhagat Singh Koshiyari said that the future generations should be made aware of the sacrifices made by 'democracy warriors' in protecting the democracy in the country and such functions should be held at the district level also. Some of the 'democracy warriors' also recalled their experiences during the emergency days. The members of the 'Uttarakhand Loktantra Senani Sanghathan were honoured.