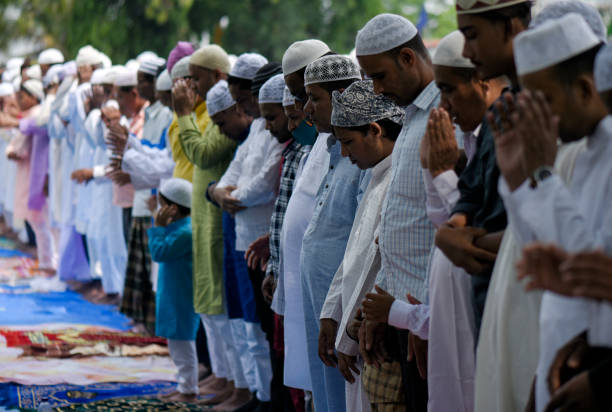 Purola Muslims decide against 'Eid' congregational prayers, no prayers allowed at Badrinath area
S.M.A.KAZMI
Dehradun , June 28
The frightened miniscule minority Muslim community of Purola in Uttarkashi district of Uttarakhand have decided not to hold 'Eid-Ul –Zuha' congregational prayers on Thursday due to prevailing tension in the area following calls by Hindu right wing organisations for the community to quit the area earlier this month. The Muslims of nearby Barkot town of the district have also decided not to hold congregational Eid prayers which they used to hold for the past three decades.
In another development, Muslim community workers working in Badrinath  have been asked by the administration not to hold Eid prayers in Badrinath area where one of sacred Hindu temple of Badrinath is located. A decision in this regard was taken by the police following a meeting of  priest community, hotel associations and others was held at the Badrinath Police Station. The Muslim workers working at the construction sites have been told to go to nearby Joshimath town to celebrate Eid festival. There was a controversy in 2021 when a group of Muslim labourers offered prayers at their construction sites. There was a hue and cry and it was charged by the right wing organisations that Eid 'Namaz' was held at Badrinath.
The Purola town witnessed migration of some Muslim shopkeepers who were threatened following an incident in which two youth one a Muslim and anothera Hindu were allegedly involved in luring a local minor girl. Both of them were caught by local shopkeepers who charged them with indulging in "love jehad', a term coined by Hindu right wingers alleging a planned conspiracy to lure Hindu girls to Islam.
Posters were pasted on the shops of Muslims to leave the town and some of the shops were also marked with black cross marks. A 'Mahapanchayat' was also called by Hindu groups on the issue on June 15 which was disallowed by the Nainital High Court. The Muslim community had also called for a similar 'Mahapanchayat' on june 18 at Dehradun which was also subsequently cancelled. Most of the Muslim shopkeepers who were forced to leave the town have returned back.
The Muslims of Purola town comprising 40 odd families used to hold a congregational Eid prayer at the residence of a local Muslim. " We have decided not to hold the congregational prayer due to prevailing situation," said Ashraf, a local of Purola.
"Many of the Muslim families have already left Purola to celebrate the festival in dehradun or elsewhere. Similarly," said Tahir, a resident of nearby Nainibagh town in Tehri Garhwal district
Meanwhile, Uttarakhand Chief Minister Pushkar Ssingh Dhami has extended greetings and best wishes to the people of the state especially Muslims citizens on the occasion of Eid-ul-Zuha.