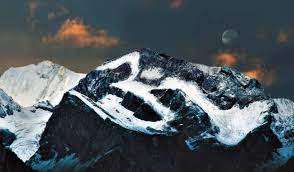 'Adi Kailash', 'Om Parvat' pilgrimage restarts
B.D.Kasniyal
Pithoragarh, Sept 12
Pilgrimage to 'Adi Kailash' and 'Om Parvat', situated in Vyans valley of Pithoragarh district, near Indo-China border    resumed from today after a brief halt due to closure of Tawaghat to Lipulekh road.
"Sixty pilgrims left Dharchula for 'Adi Kailash' today. We have given permit to a total of 280 pilgrims to visit 'Adi Kailash' and 'Om Parwat', pilgrimage this season, that resumed from September 7," said Divesh Shashni, SDM, Dharchula, who issues inner line permit to the pilgrims from Dharchula.
According to SDM, the Yatra is being organised by private parties only as the Kumoan Mandal Vikas Nigam (KMVN), a government nodal agency for yatra, has suspended it since July this year.
"We have stopped issuing inner line permits for two days after the road from Tawaghat to Bundi camp of the yatra was closed at several places," said the SDM
Dhan Singh Bisht, in charge of KMVN base camp at Dharchula said that the 'Adi Kailash' Yatra has been scheduled till November 15, this year." If early snowfall will not occur, it may be extended till November last ,"said the KMVN base camp in charge.
"There are several landslide sensitive places from Dharchula to Gunji base camp of the yatra. These are, Dobat, Kulagar, zero point near Tawaghat, Malghatiya point, Lakhanpur, Pail Sete, Kothla and Bundi,  where even slight rains cause landslides," said the KMVN in-charge.
According to District Disaster Management Office, Pithoragarh, over 105 mm rains in last 24 hours, resulted into 30 hours closure of Pithoragarh to Tanakpur National Highway Nine, leading to over 1000 passengers stranded on both the sides of the landslide ." Over 15 Village roads in Pithoragarh and  27 roads in Champawat district are still closed due to debris at various spots in these roads. Efforts are on to reopen these roads soon," said M.S. Mahar, DDMO, Pithoragarh.