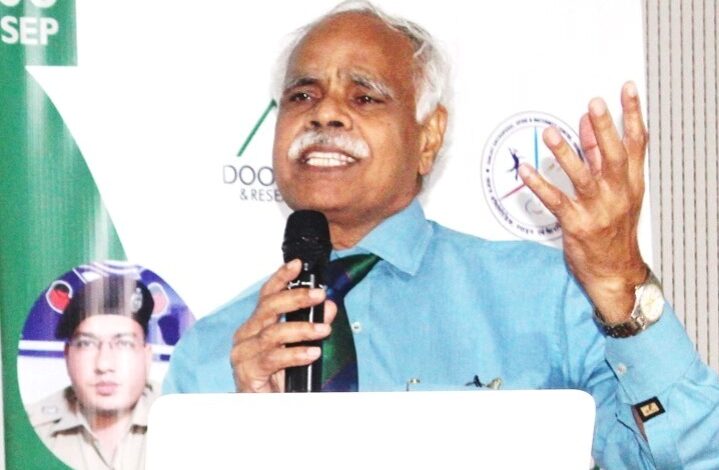 Road accidents have taken form of an epidemic, Dr.BKS Sanjay
 Dehradun, Sept 9
Padma Shri Dr. BKS Sanjay, an eminent orthopaedic surgeon has said that the road accidents have taken the form of an epidemic and families, social relationships and marital bonds are breaking down due to these accidents. "Apart from this, mental stress is exponentially increasing in victims and their families as every victim becomes poorer after road traffic accidents and these should be the major concern for everyone," he added. He was speaking at a road safety awareness lecture oragnised by Doon Library and Research Centre at parade ground, here on Friday.
Dr. B.K.S. Sanjay said that accidents are causing a high toll on human and financial resources of a very large and important working society. He disclosed that as per his own  research, 90 percent of the accidents occur due to the carelessness of the driver which is a behavioral problem which can be changed at any time if one wishes. He further said that thought is the primary source of all action and if any change has to be brought, then thinking process of an individual has to be changed. Dr Sanjay said that he and his team have been spreading awareness and contributing their share to change the casual attitude of the public towards road safety which has brought positive results.
India and International book record holder orthopaedic surgeon Dr. Gaurav Sanjay who was a guest speaker, in his lecture said that acording to a report of the United Nations, more than 5 lakh road traffic accidents are taking place in India, in which about one third of the people are dying and almost 3 Lakh are suffering from some kind of disability every year forcing them to  struggle for rest of their life with the residual deformity.
Dr. Gaurav said that more than 50 percent of those who die in accidents are people aged between 15 to 35 years, who are the future of the country. He said that all should learn and follow traffic rules, use helmets and seat belts to  reduces the number of accidents  and severity of the damage.  Dr. Gaurav said that the number of registered vehicles in Uttarakhand in the year 2000 was around 4 lakh vehicles, which has increased to 30 Lakhs, now which is a 650% increase. He said that increase in the number of vehicles in this mountain state is a matter of concern.
Special guest of the program, RTO Shailesh Tiwari said that when vehicles are moving at high speed, the force of the collision doubles, that is why head-on collisions mostly are so fatal. He said that for Juvenile driving without license, the vehicle is immediately seized and the fine can be up to Rs 25,000 and the legal guardian may even be imprisoned for up to 3 years imprisonment.
The organizers and the audience thanked the speakers and the guests, and expressed their views and said that the dissemination of information related to road safety should be greatly increased and such programs should be organized at various places at increasing frequency in various public places especially in schools and colleges.