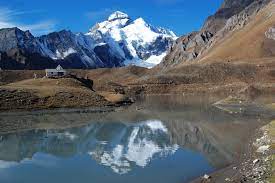 ' Adi Kailash', 'Parwati Sarowar' likely to get major tourist boost after PM Modi's proposed visit
B.D.Kasniyal
Pithoragarh, Oct 5
Jolingkong peak, also known as 'Adi Kailash', where the Prime Minister Narendra Modi  is scheduled to visit on October 11th this year, is a tribal religious place which is also mentioned in the 'Puranic' texts and traditionally been revered by tribal people of Darma Vyans and Chaundans valleys.
Late Dungar Singh Dhakariyal, a resident of Darma valley and  former cultural coordinator of Pithoragarh District Information office, had written a book, named, 'Chira La Mangala Barni' on cultural  traditions  of Darma valleyin which he has given details of 'Adi Kailash'."It was  from the time of Charkha hya, the boy from Darma valley who became the first king of Tibet, that the locals used to rever Jolingkong peak as abode of Lord Shiva," wrote  Dhakariyal.
He wrote that  Parwati Sarowar, a lake near the peak is the creation of Lord Shiva, which he created for bathing purposes  of his spouse Parwati, after She prayed him to create a bathing facility for her when the Lord was in deep meditation as she could not go far  to take bath, leaving him alone."Since then, the lake is known as 'Parwati Tal'," he wrote .
The references of 'Adi Kailash' are also mentioned in 'Manaskhand' of 'Skand Puran', where it has been written that the peak, known as sacred hill, named as 'Tuhinanchal',  which lies between river Shyama (Kali) and Gori and Shiva as 'Hansheswar' abode the top of hill, a sacred hill. The peak is known as Jolingkong today," said the writer.
The writer in his book said that the actual work to establish 'Adi Kailash' as a religious place was started in the year 1964, under leadership of Bala Singh Hyanki, a resident of Chaudans valley of Dharchula, who first located the ancient religious place and later established a temple of Shiva and Parwati in the year 1991."It was with cooperation of residents of Kuti village of Vyans valley, who reached there in a group and worked as voluntary labourers for months to construct the temple there," said the book.
AK Gupta, Pithoragarh District Magistrate in the year 1991, had sent a team of officials to visit the 'Adi Kailash' and 'Parwati Sarowar' to find its exact location and terrain. The repor was later sent to the then UP government
Today, "Adi Kailash or Lord Shiva of Jolingkong peak,(5945m )  is a revered peak substituting Kailash peak in Tibet, Thousands of pilgrims reach there every year to have view of Jolingkong peak and take bath in 'Parwati Sarowar'.
"The pilgrimage was started by Kumoan Mandal vikas Nigam (KMVN)  from the year 1993 and every year more than 1000 pilgrims from all over  visit 'Adi Kailash'. This year more than 6000 pilgrims have visited the sacred place so far. It was hoped that after the visit of Prime Minister Narendra Modi , the number of pilgrims will increase many fold, " hoped  Dhan Singh Bisht, incharge of KMVN base camp at Dharchula.