PM Modi assure people of hills of infrastructural development to check migration
B.D. Kasniyal
Pithoragarh, Oct 12
Prime Minister Narendra Modi Modi has assured the people of the hill state of Uttarakhand that he want to belie the popular saying that the "water and youth of hills, does not help the hills' ( Pahar ka Pani aur pahar ki jawani pahar ke Kam nahi Aati) by creating infrastructure facilities in remote hill villages so that local people could live there easily and dodnot migrate due to want of basic facilities.
He was addressing a well attended party rally at S.S.Waldia Sports Stadium here today concluding his day long visit to Kumaon area of Uttarakhand.
Remembering his past days of spending in Uttarakhand, he said that the millets, that are traditional products of Uttarakhand are being popularised in the entire world. "We are giving all facilities to women self- help groups to produce millets and related products from millets through their groups," he said.
Praising the Uttarakhand BJP government led by Chief Minister Pushkar Singh Dhami, he claimed that due to efforts of double engine governments of centre as well as the state, over 50 lakh pilgrims reached 'Chardham' this year." The increasing connectivity in state and under construction Rishikesh -Karnprayag rail link will transform the entire state, " he said.
Prime Minister said that over 75000 ex-servicemen pensioners of Uttarakhand have received befits of 'One rank, one pension' scheme." We are developing infrastructure facilities in Uttarakhand and in last 9 years 4200 km long roads 250 big bridges and 22 tunnels have been constructed in Uttarakhand and  some of these projects have been inaugurated today," he said.
The Prime Minister announced that in coming four years over  Rs 4000 crore  will be spent to speed up relief and rescue work in the disaster hit areas of the state.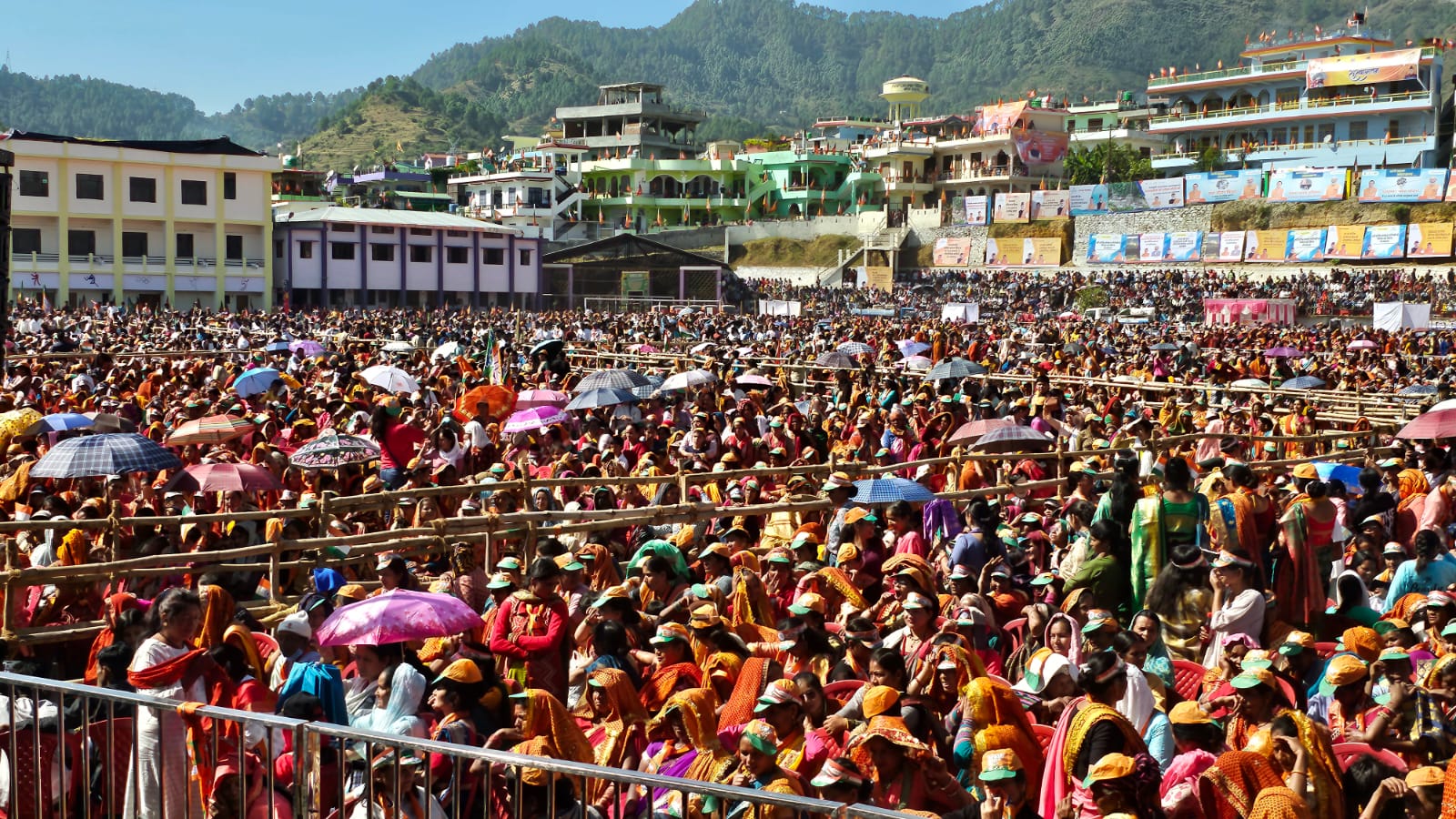 He further said that the country has made rapid strides not only in the sphere of space but also in the field of sports as it has broken all records of winning medals in the recently concluded Asian Games..
He said that the government is spending crores of rupees in providing facilities to sports persons in the country, taking care of their diet and modern training."Every time whenever Lakshay Sen, a national badminton player hailing from Uttarakhand wins an international medal, his family brings 'Bal Mithai' from Almora for me," said the Prime Minister.
He said that it was not only sports but even in space the 'Chandrayan' mission  has reached a spot on the moon where no other country could reach till date." It is also a proud  moment for Uttarakhand that we have named the spot where the 'Chandrayaan' landed as 'Shiv Shakti', "said the Prime Minister.
Lauding the bravery of Uttarakhand men, he said that it is a land of not only bravery bit also of spirituality." The religious places like Badrinath, Kedarnath, Nanda Devi, Bageshwar, Jageshwar, Kainchi Dham, Golu Devta, Katarmal of Manaskhand are places of divine value," he added
Prime Minister claimed that the entire world is praising the country for hosting G-20 conference in New Delhi. He asked the audience to reply if they feel good when world praises the country. " It all could become possible only due to you as you have chosen a strong  government in New Delhi, " he said.
Finally he praised the grand welcome he met during the seven kilometres long route from Airport to Stadium by colourfully dressed cultural troupes from the entire state