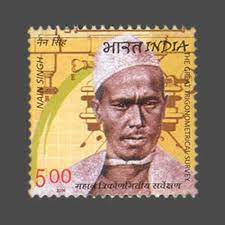 Pandit Nain Rawat remembered at his native place on his birth anniversary
B.D.Kasniyal
Pithoragarh, Oct 21
Munsiyari remembered Pandit Nain Singh Rawat, the first surveyor and explorer of Tibet in the 19th century British era, on his 193 birth anniversary today.  Known as Pandit Nain Singh Rawat, and born in Bhatkura village of Munsiyari on October 21, 1830, he was the first Indian to have gone to Tibet posing as a trader or Tibetan monk, and measured the distance of Lhasa,Gartok and Thok julung mandis from western Tibet during British era.
"He also measured the distance from Kathmandu to Lhasa and surveyed 21 places in between to find out the latitude and elevation  of these places by the way of counting beads in his prayer ring," said Jagat Singh Martolia, member of Zila Panchayat from Munsiyari.  "In order to celebrate 193th birth anniversary of this great son of Munsiyari, we have organised several sports competitions in his village Bhatkura and the winners will be awarded today, "said Martolia.
Finding no way to enter Tibet, as no foreigner was allowed to enter legally there, Thomas Montgumari of Great Trigonometric Society of India, recruited Nain Singh and his brother Mani, for the work of survey of Tibet in the year 1862." After recruiting both the brothers, they were trained as behaving as Tibetan Monks and running prayer beads as 100 places into one bead," said Lalit Pant, a scholar on Indo- Tibetan land trade based in Pithoragarh.
"He took 3 main expedition into Tibet to explore the distance between places, in his first expedition he reached Lhasa in 1866, in his second expedition he reached Thok julung in 1866 and mapped distance of Satluj river from Indian borders. In his third expedition to Tibet as a Tibetan monk, he returned to Lhasa from more northern routes than he mapped in his first expedition, " said Pant.
"He was first non Tibetan, who traced Thok Julung goldfields for outside world," added pant. Nain Singh Rawat travelled a total of 1580 miles in the form of 3160000 foot steps in Tibet during his exploration expeditions , said Pant.
Pt. Nain Singh was awarded with a gold medal by British for his work and given him a title of Companion of Indian Empire and Jagirs in British territory."He was also honoured by free India for his great contribution and issued a postage stamp in his name on June 27, 2004,"said pant.
"We have demanded to establish a memorial in his name in his native place  Bhatkura in Basantkot village of Munsiyari, for the coming generations to know that such world famous personalities were born in this region," said Martolia.