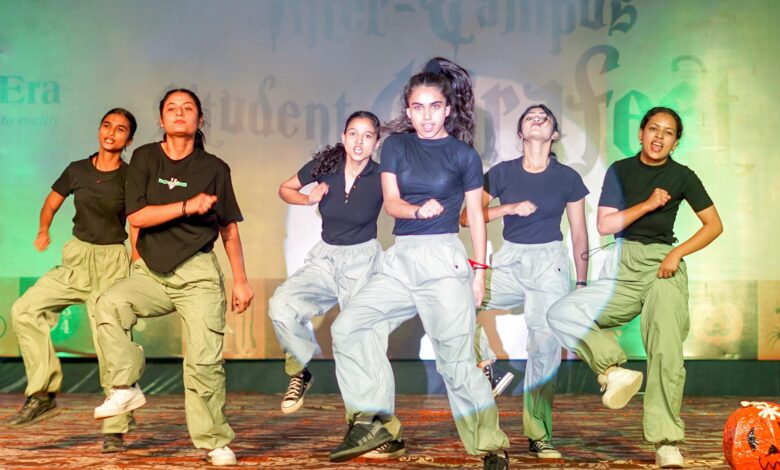 Graphic Era students showcased strong cultural skills on second day of 'Grafest 23'
Dehradun, Oct 22
Students of different streams including engineering, management and other courses of Graphic Era Group of institutions exhibited their strong cultural skills on the second day of the annual cultural festival titled 'Grafest-23' today. The students showcased their skills giving glimpses of Indian and different cultures of the world in their respective performances.
The performances based on different cultures like Garhwali, Kumaoni, Nepali, Rajasthani and Punjabi  were the highlights of the event. The audience including students and faculty thoroughly enjoyed the performances by dancing and singing.
In the Harry Potter movie themed 'Grafest 23', cultural competition between Graphic Era Deemed University and Graphic Era Hill University's Dehradun, Bhimtal and Haldwani campuses continued and teams who were preparing wholeheartedly for the event gave amazing performances.
Graphic Era Deemed University's Amrasha performed Bharatnatyam, Pranjal performed western dance, Team Incredibles ( Tanisha, Avishakar, etc.) , from Hill University Dehradun  performed group dance, Team Gorkha Paltan (Khushi, Sushant, etc.) performed Nepali dance, Ved Nautiyal performed Bollywood dance, Team Nandaas ( Tanmay, Shivangi, etc.) performed a group song, Bhimtal campus students namely Nanda Sunanda team (Prachi, Divya, etc.) performed Kumaoni dance, Riya Kandpal performed on a western song and X- Tremme dance crew (Tushar, Jay, Rahul, etc)  also preformed a western dance.
The Haldwani campus' Samhita group (Jasleen, Harshita, etc.) did a Rajasthani dance, Ansh sang a western song, Team Karvaan (Kavyansh, Tushar) sang a group song, Rahul Pandey performed western dance and Deemd University's Kashti band (Pratham, Omegh, etc.) performances were applauding hugely by the audience. Graphic Era Deemed University was decorated with the famous characters and memorable things like Hagrid's hut, Hogwarts Express from Harry Potter film series.
Graphic Era Group of Institutions' Chairperson Rakhi Ghanshala, Vice Chancellor Graphic Era Deemed University Dr. Narpinder Singh, Vice Chancellor Graphic Era Hill University Dr. Sanjay Jasola, officials, faculties and thousands of students from both universities were present in the event.