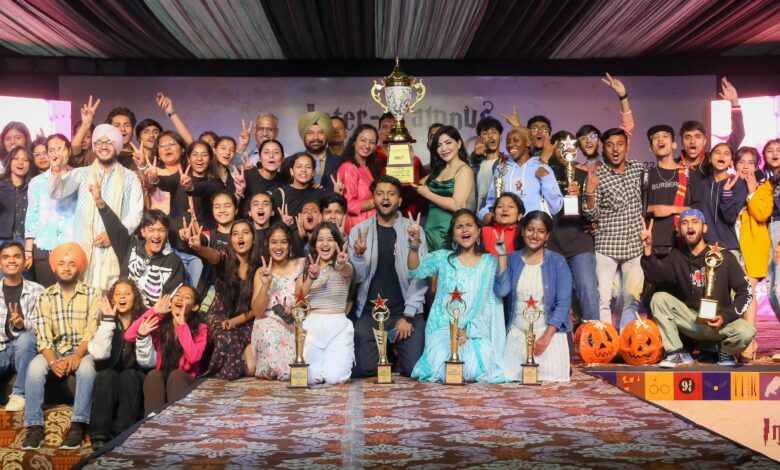 Traditional Nepali dance of team 'Manvi' bagged first position in 'Grafest 23'
Dehradun, Oct 23
In the annual cultural competition of Graphic Era group of institutions 'Grafest 23', Team 'Manvi' comprising Sahil, Sanskriti and Avni bagged the first position in folk dance category while team 'Nandaas' of Tanmay and Shivangi in the folk singing. The 'Kashti Band' won first prize in 'Bandwar' category.
Hundreds of students from Graphic Era Deemed University and Graphic Era Hill University's Dehradun, Bhimtal and Haldwani campuses participated in the competition. Winners of different categories were felicitated by Graphic Era Group of Institutions' Vice Chairperson Rakhi Ghanshala.
In group dance (folk) category, Deemed University's Team Manvi's Nepali dance bagged the first position. Hill University Dehradun's Team Devasthali's Garhwali dance (Atul, Taniya, Sheetal, etc.) won the second prize and Bhimtal campus' Team Nanda Sunanda's Kumaoni dance (Prachi, Divya, etc.) won the third prize.
In the group dance (western) category, Tanisha and Avishkar's Team 'Incredibles' from Deemed University came first, 'G- Elite Group' from Haldwani campus came second and 'Jai Rai Group' from Bhimtal campus came third.
In group singing (folk) category, Dehradun Hill University's Team 'Nandaas' won the first prize while Deemed University's Team 'Morpankh' won second prize and Bhimtal campus's 'Himgiri Group' won the third position.
In solo singing (classical ) category, Dhitasmita from Deemed university, Kasak from Bhimtal campus and Ved Nautiyal from Dehradun Hill university won first, second and third prizes, respectively. Haldwani's Ansh won the first, Deemed university 's Gifty won the second and Bhimtal campus's Riya Kandpal won third prize in the solo singing (western) category.
Sahil Kathait from Dehradun Hill University won the first prize in solo dance (classica) category. Amrasha from Deemed University won the second and Kanishka from Bhimtal campus won the third prize. In solo dance (western) category, Haldwani campus 's Rahul Pandey won the first position. Bhimtal's Rahul Kumar and  Dehradun Hill University's Himanshu were given second and third place respectively. .