Once tri-nation Jauljibi fair on Indo-Nepal Border to start from Nov 14
B.D.Kasniyal
Pithoragarh, Nov 2
Once a tri-nation fair of India, Nepal and Tibet, organised at Jauljibi village situated on Indo- Nepal border, the fair this start from November 14 and last till November 24. Dr Shiv Kumar Baranwal, Additional District Magistrate (ADM) of Pithoragarh, said after taking part in a preparatory meeting of the fair held at Jauljibi with officials.
The Jauljibi village is situated at the confluence of River Kali and Gori, some 70 km from Pithoragarh town.
"The Jauljibi fair, started by Pal kings of Askot, from the year 1915, to give space to traders and craftsmen of woollen goods from high Himalayan valleys, was once a big market for the tribal traders of Vyans ,Darma and Johar valleys of Pithoragarh district, but also for the traders from Tibet and Nepal," said Dr Baranwal.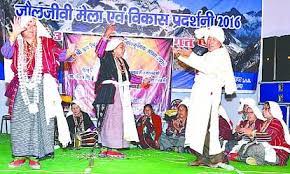 The ADM said that, besides the developmental stalls of various government departments, the traders and craftsmen from Himalayan region and from plain areas of Uttarakhand and UP are also expected to take part in large  number in the fair.
" We are expecting more than 300 traders to take part in the fair this year, " he said.
"Not only the woollen goods but rare Himalayan herbs, spices, local pulses, wooden craft goods and Nepalese horses were goods of attraction in this fair for long," said Dr Lalit Pant, a researcher on Indo- Tibetan traditional border trade.
According to ADM, during the fair,  all concerned departments as police, Home guards, and SDRF teams as well as medical and Jal Sansthan will give their services to the participants during the 10 days period of this traditional fair."The Indo- Nepal bridge on river Kali will  remain open from 6 am to 10.30 pm, and only 30 persons will be allowed to cross the bridge at a time as per its capacity, " said the ADM.
The official said that to hold cultural programs, the stage at Jauljibi fair is being repaired and sitting arrangement s are being made." The local cultural troupes will perform during day time while the cultural teams from outside the district will be given time after them," said the official.