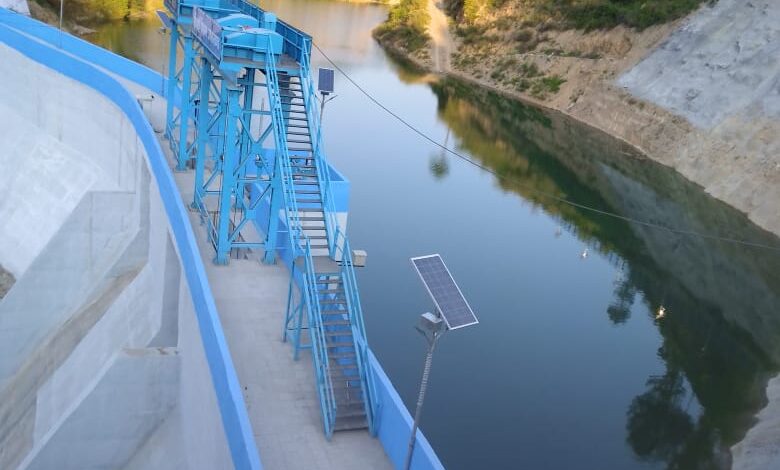 Tharkot artificial lake to be another tourist attraction at Pithoragarh
B.D.Kasniyal
Pithoragarh, Nov 8
A new tourist destination with an aim to attract tourists in the border town of Pithoragarh will be added after an artificial lake at Tharkot, near Pithoragarh town, gets completed.
"The work on the lake is almost complete and it is been filled now a days. It has a capacity of 20 crore litres of water, out of which 15 crore litres of water has already been filled," said Dhiraj Joshi, executive engineer of irrigation department, the agency that constructed it.
The construction of the artificial lake, the first in the border district, was started in the year  2019, with a budget grant of Rs  32 crore.
According to irrigation engineer, the lake is 750 meters long and 56 meters wide and situated at entry point to the district headquarter. "It has been constructed as a multipurpose lake to serve several purposes including to create a  water reservoir to feed  drinking water to the town during the in water scare months of summers. The Jal Nigam has already started constructing two new wells also  to supply drinking water to needy localities of the town. The lake would also be used for fisheries and to  entertain the tourists by adding boating attraction to it ," said Kriti Chandra, District Tourist Officer, Pithoragarh.
After a visit of Prime Minister Narendra Modi to 'Adi Kailash' in October  month, there has been an attempt by the state government to promote religious, adventure and nature tourism which has tremendous potential in the hilly border district .
"If the district gets air connectivity, than only the tourists, who will reach the district headquarter on their way to 'Adi Kailash' or 'Om Parwat', could spend his spare day visiting the lake and other tourist attractions nearby ," said Pawan Joshi, a hotel owner and leader of Traders Association, Pithoragarh.
Pithoragarh Chife Development Officer (CDO)  Varun Chaudhari has said that the artificial lake will also be utilised for tourism purposes." We have decided to utilised the lake for tourism purposes as well. We will soon select boating sites at the lake to start boating for tourists," said Varun Chaudhary.
"Though, the district has a another artificial lake, recently constructed at Baraloo village but it is not worth for boating activities," said the irrigation engineer.
Another artificial lake, recently commissioned at Kolidhek village of Lohaghat sub- division of Champawat district recently has been commissioned to start boating activities."The Kolidhek lake will be used to meet shortages of drinking water as well as for tourists  in the region. The work has already been started,"said Navnit Pandey, District Magistrate,Champawat.