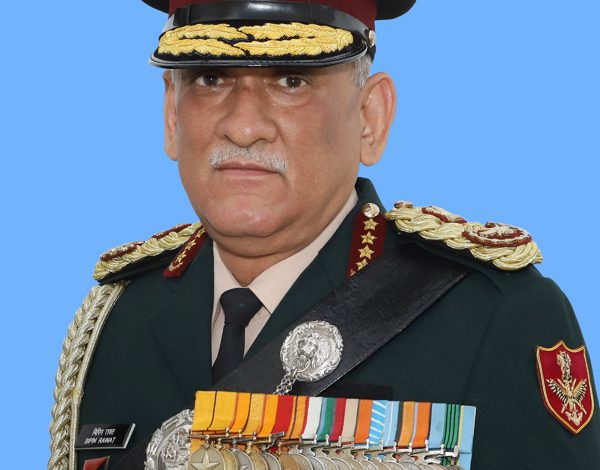 First Chief of Defence Staff (CDS) General Bipin Rawat killed in helicopter crash along with wife and 11 others
Uttarakhand mourns the death of son of the soil
Dehradun,
India's first Chief of Defence Staff (CDS) General Bipin Rawat, his wife Madhulika Rawat and 11 other defence personnel were killed in a helicopter crash at Coonor area of Tamilnadu on Wednesday afternoon. According to Indian Air Force (IAF) Group captain Varun Singh SC is currently under treatment at Military Hospital in Wellington.
Indian Defence Minister Rajnath Singh mourned the death of General Bipin Rawat ,his wife and 12 other defence personnel in his tweet shortly. He said that the "untimely death of General Bipin Rawat was irreparable loss to our armed forces and the country".
The ill- fated Indian air Force helicopter was carrying CDS General Bipin Rawat, his wife and 12 other defence personnel. The crash happened at a distance of about 10 km from the helipad where it was to land with CDS Rawat, who was to attend a cadet interaction programme on Wednesday afternoon at the Defence Services Staff College, Wellington.  The IAF Mi-17V5 helicopter was airborne from Sulur for Wellington.
A pall of gloom has descended in the entire Garwal region as General Bipin Rawat belonged to Pauri Garhwal district. He used to frequent his native village and was in touch with his relatives and neighbours. Last week, he was Guest of Honour at the annual convocation of Hemwati Nandan Bahuguna Garhwal University.
Ironically, he was to attend the passing out parade of the IMA on December 11, 2021 where The President of India Ramnath Kovind would be the Chief guest.
"An IAF Mi-17V5 helicopter, with CDS Gen Bipin Rawat on board, met with an accident today near Coonoor, Tamil Nadu. An Inquiry has been ordered to ascertain the cause of the accident," the Indian Air Force tweeted.
Defence Minister Rajnath Singh informed Prime Minister  Narendra Modi about the incident. He also visited the residence of General Bipin Rawat in New Delhi.
.
General Bipin Laxman Singh Rawat was born in Sainj village of Pauri garhwal district of Uttarakhand on  March 16, 1958. He was a third generation army officer in his family. His father Lt. Gen. Laxman Singh Rawat (retd) rose to become a Lt. General in India Army and also served as Deputy Chief of Army. General Bipin Rawat was appointed as the first Chief of Defence Staff and took office on January 1, 2020. Earlier, he was 57th and the last Chairman of the Chief of Staff Committee and also served as the 26th Army Chief of the Indian army. During his long military career he was bestowed with many awards and citations including PVSM,UYSM,AVSM,SM,VSM and ADC.
The post of Chief of defence Staff was created by the presented NDA central government.
General Bipin Rawat did his schooling from Cambrian hall School, Dehradun  and St. Edwards's School, Shimla. He joined National Defence Academy(NDA),Khadakwasla and later passed out from Indian Military Academy(IMA),Dehradun to join Indian army as a second Lieutenant in 1978. He was awarded the Sword of Honour during his training at IMA.
Ironically, he was to attend the passing out parade of the IMA on December 11, 2021 where The President of India Ramnath Covind would be the Chief guest.
Rawat was commissioned into the 5th battalion of 11Gorkha Rifles, the same unit as that of his father on December 16, 1978. He has experience in high-altitude warfare and counter insurgency operations in J&K and North –east. He commanded a company in Uri, J&K  as a Major and commanded his battalion in eastern sector along Line of Actual Control on China Border at Kibithu.As a Brigadier, he served at Sopore, J&K with Rashtriya Rifles. He also commanded a multinational Brigade in the Democratic Republic of Congo under United Nations' Peace keeping Force where he was twice awarded the Force Commander's Commendation. As a Major General, he commanded the 19th Infantry division at Uri, J&K. As a Lieutenant General,  , he commanded 3rd Crops headquartered in Dimapur before taking over as Army Commander  general Officer Commanding –in-Chief (GOC-in C) of the Southren Command On January 1, 2016.
Later, he took over as the Vice Chief of Army Staff on 1 September 2016.The NDA government appointed him as the 27th Chief of Army Staff on December 17, 2016 supreseding two more senior Lieutenant generals, namely Praveen Bakshi and P.M. Hariz.(ends)