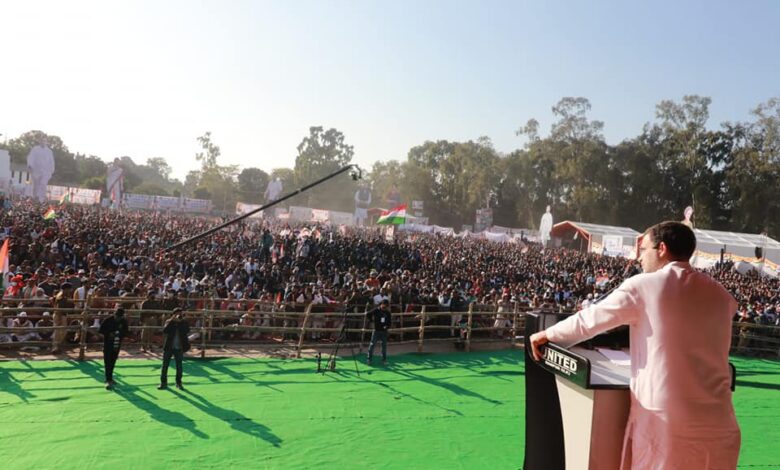 A united India defeated Pakistan in 13 days in 1971 war, US took 20 years to finish their war in Afghanistan: Rahul Gandhi
S.M.A.KAZMI
Dehradun , Dec 16
In an attempt to expose the nationalism being espoused by the ruling Bharatiya Janata Party (BJP), former Congress President Rahul Gandhi who addressed a massive "Vijay Samman Rally' to commemorate the 50th anniversary of Bangladesh war victory, here on Thursday at parade ground, tried to make an emotional connect with the soldiers, ex-servicemen and the people of Uttarakhand by stating that like so many families of martyrs in the state, his family too made sacrifices for the country.
Through the well attended rally, Rahul Gandhi started his party's election campaign in the hill state on Thursday by acknowledging the sacrifices made by the soldiers hailing from Uttarakhand in all the wars that the country had fought. He said that his family had also made sacrifices for the country and that is a strong connection between him and the people of Uttarakhand.  "The way thousands of families in Uttarakhand lose their kin battling for the country's honour, My family too has made sacrifices. This is my relationship with Uttarakhand," he said.
He further said that he himself studied at Doon School, Dehradun.
Taking a dig at the ruling dispensation, Rahul Gandhi said that only those who have sacrificed for the country could understand it. In another attack on the ruling BJP, he said that the name of her grandmother former Prime Minister Indira Gandhi, who took 32 bullets for the country was not even mentioned at the government event held to celebrate the 50th anniversary of Bangladesh war victory. " She led the country to the historic victory," he added. Even the invitation card for the function did not carry her name because the central government is afraid of truth.
On the divisive agenda of the ruling BJP, Rahul Gandhi said that India won the 1971 war in just 13 days since the entire country was united as one. "The USA has taken 20 years to finish their war in Afghanistan," he said.
The Congress leader said that nowdays, the country is being divided and weakened. "The country does not become strong by tanks and missiles but by a united country," he added.
He further charged that the country is being run by three industrialists. On the issues of farmers' agitation , he said that Prime Minister did not offer any compensation to 700 farmers who lost their lives during the agitation but has waived off loans of his industrialist friends worth lakhs of crores.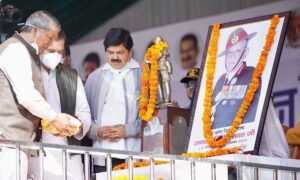 Both the ruling BJP and main opposition Congress are trying to woo soldiers, ex-servicemen and their families due to their large presence in Uttarakhand. Both the parties are showing concern for the soldiers and defence personnels and their families.
Earlier on Wednesday, the Defence Minister Rajnath Singh laid the foundation stone of a war memorial in Dehradun and the entry gate of it was named after CDS General Bipin Rawat.  Rahul Gandhi also paid homage to General Bipin Rawat, Chief of Defence Staff (CDS) who died in a helicopter crash on December 8.  (ends)