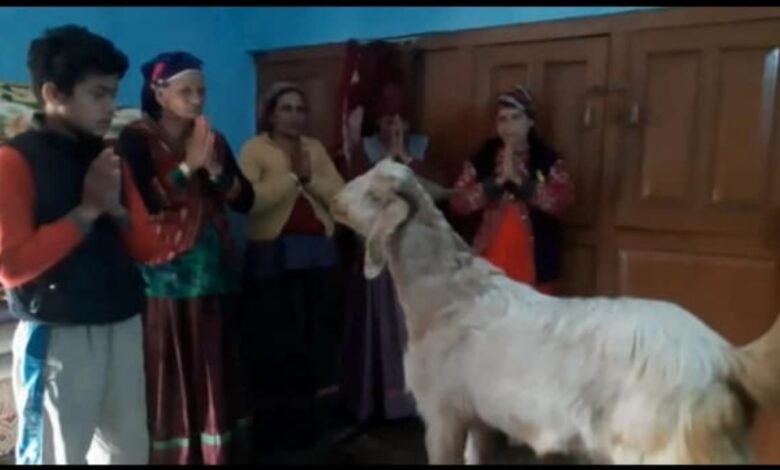 Maroj festival kicks off in Jaunpur- Jaunsar region of Garhwal
Ajay Ramola
Mussoorie, Jan 14
The traditional one month long 'Maroj' festival popular in Jaunpur-Jaunsaar region of Garhwal kicked off with the sacrificial goat offering on Friday. Women in traditional attire gathered in their respective villages of the region and participated in community dance and song ceremony around the bonfire lit up to mark the occasion.
Social activists Pradeep Kavi from Khairar village said that the originally 'Maroj' Festival  begins on the eve of 'Makkar Sankranti' and the  festival is celebrated as a symbolic slaying of 'Dushashana', a character, in the epic 'Mahabharata'.  The women of the community on this day observe a fast and keep their hair untied until the goat is sacrificed, he added.
Not all villages offered sacrificial goat and many stuck to preparing their traditional  cuisines on the occasion.
Upendar Lekhwar, a resident of Parodi village in Jaunpur said that although we celebrate the festival but have stopped the sacrificial goat ceremony from past couple of years due to high inflation and exorbitant cost of goats which is now beyond the reach of the common villagers.
He said the traditionally when no cultivation was possible in winters due to heavy snowfall in the region,the farmers on the advent of the chilly month of January would slaughter goats before the deity and feast on it the whole month.
However, some villagers did indulge in the sacrificial ceremony and  prayers in honour of 'Bhairon Devta', a local deity.
Once slaughtered, the goat meat was cut into pieces, and distributed among the villagers as 'Banta'.
The omicron virus this year has impacted the celebrations but is being observed symbolically across the region, by following Covid protocol, said Upendar Lekhwar.