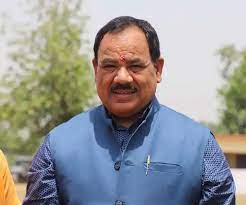 Dr. Harak Singh Rawat finds himself caught in his own web
S.M.A.KAZMI
Dehradun , Jan 17
With less than a month to go for the state assembly polls in Uttarakhand and amidst the game of switching sides amongst the leaders of both the ruling Bharatiya Janata Party (BJP)and main opposition Congress, looking for better political prospects, Dr Harak Singh Rawat, former BJP cabinet minister, a maverick having an impeccable record of scoring electoral victories, this time finds himself caught in his own web.
Dr. Harak Singh Rawat, one of the most controversial politician of the state, finds himself stranded in no man's land.  Following his no holds barred propensity to pressurise his own party and at the same time negotiating with others, the ruling BJP has decided this time to act and act fast by kicking him out of the Uttarakhand ministry and also from the party for six long years.
The political development has surprised the politicians as well as the observers as Dr Harak Singh Rawat was known to be running with the hare and hunting with the hounds all throughout his political career.
It all started with the state assembly polls approaching and Dr Harak Singh Rawat realising that it would be difficult for him to return from Kotdwar assembly from where he won the 2017 state assembly polls riding on Prime Minister Narendra Modi's popularity. It would have been tough for him against Surinder Singh Negi, a former Congress minister and a strong contender. He wanted to shift  his assembly constituency and started throwing his weight around and giving contradictory statements. He threatened to resign from the state ministry in a cabinet meeting annoyed by the non-sanction of the required amount for the proposed Kotdwar Medical college. He was placated by Uttarakhand Chief Minister Pushkar Singh Dhami during dinner meetings and all his demands including funds for Kotdwar Medical College were met.
Dr. Harak Singh Rawat praised the Chief Minister and wished him well for the elections but the party did not oblige him on choosing a seat for himself. He also added a caveat to his demand by seeking a party ticket for his model and film heroine daughter-in-law Anukriti Gusain, who had been running successfully, a women's initiative in Pauri Garhwal district. He wanted her to be BJP nominee from Lansdown assembly seat which is presented by Dileep Rawat, an old time RSS and BJP leader. This led to unsavoury war of words between Dr. Harak Singh Rawat and Dileep Rawat.
Dr Harak Singh Rawat ruffled the feathers of other party leaders by asking party ticket for himself from Kedarnath or Doiwala. The BJP leaders of Kedarnath who were hopeful of party nomination cried foul. Former Chief Minister Trivendra Singh Rawat had represented Doiwala assembly seat in the past and could not be ignored.
The ground situation of the ruling BJP was not to the liking of Dr Harak Singh Rawat, who is also known as one of the "best political weather scientist" in the state. Realising that opposition Congress stands a better chance of defeating BJP in Uttarakhand, he had started confabulations with the Congress leaders and made it candid also to pressurise the BJP.
But he hit a wall in his efforts to re-enter Congress following stiff opposition from former Chief Minister Harish Rawat who is also the Chief of the party campaign committee and a prospective Chief Ministerial candidate.
During the past two days, Dr. Harak Singh Rawat did not attend the core committee meeting of the BJP held to finalise the names of the party candidates and blamed the party for not informing him about the meeting. He had gone to Delhi to meet Union home Minister Amit Shah and party president J.P. Nadda but reportedly went to meeting Congress President Sonia Gandhi, which prompted BJP to act fast and decisively in expelling him from the party and kicking him out of the ministry at midnight on Sunday.
Following his expulsion from the party, he has lost his bargaining value and delay in his re-entry into Congress point towards the fact that party was having second thoughts about him. Altough,faction opposed to Harish Rawat would love to see him in their ranks but Harish Rawat seems to have put his foot down. In a media interview, he has put a condition to his entry by demanding that Dr. Harak Singh Rawat should publicly apologize for switching sides from Congress to BJP along with nine other party legislators in March 2016. Harish Rawat said that apart from apology there are other issues also which would be considered for his re-entry by the Congress leadership. Interestingly, Uttarakhand Congress President Ganesh Godiyal , who also hails from Pauri Garhwal and considered close to Dr Harak Singh Rawat, is working to convince the party on his re-entry.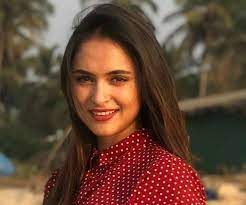 Another, issue which has escaped the political analysts about the reluctance of Congress in accepting him in the party is his role as a minister in the alleged scam in world famous Corbett National Park. The construction of lodges and buildings worth Rs. 157 crores in the Corbett national park against all rules and regulations had not only alerted the environmentalist across the country, National Tiger Authority and the Nainital High Court. An inquiry is on in the scam and buildings constructed are being razed to the ground.
The Gandhi family has been frequent visitors to the Corbett National park since the days of former Minister Rajeev Gandhi and reportedly annoyed with the developments.
Dr. Harak Singh Rawat, however, realising his situation has announced that he will work for the victory of the Congress party whether he gets a ticket or not in the state assembly polls. He has been a political survivalist, who has fine tuned the art of scoring electoral victories in his third decade old political innings.
Starting as a student leader and later becoming the president of Hemwati Nandan Bahuguna Garhwal University Student Union, he became in the youngest BJP legislator and a minister in the erstwhile Uttar Pradesh government in 1991. He was a teacher of military science in the university.
He switched to Bahujan Samaj Party (BSP) but entered Congress following the formation of the state of Uttarakhand in November 2000. He won his first election in the first ever state assembly polls in February 2002 from Lansdown in Pauri Garhwal district and became a minister in the N.D.Tewari ministry.
His name cropped up in 'unwed scandal'  in which a girl charged him of being the father of his son. Following the uproar, he was dropped from Tewari ministry but he got a clean chit in the case from Central Bureau of Investigation (CBI) which probed the matter.  He again won the 2007 state assembly poll from Lansdown seat and became the Leader of Opposition in the state assembly during the BJP regime till 2012.
In 2012, assembly elections, he was forced by the party to contest from Rudraprayag against his own close relative Matbar Singh Kandari, a former BJP minister. He won the seat comfortably despite odds. The wives of Harak Singh Rawat and Matbar Singh Kandari are real sisters. He became a minister in both Vijay Bahuguna and Harish Rawat ministries. But, he felt uncomfortable with  Harish Rawat and gauging the impending Modi wave before 2017 state assembly polls, switched to BJP along with ten other party legislators bringing down Harish Rawat government.
Harish Rawat was able to survive following High court order and winning a confidence in assembly but was hugely embarrassed by the surfacing of a video showing him talking about saving his government. The Congress party was decimated in the 2017 assembly polls with BJP winning a record 57 seats out of total 70. The Congress could muster only 11 seats with Harish rawat losing from boththe seats on which he fought.
But,  Dr. Harak Singh Rawat this time fought from Kotdwar scoring another victory and becoming a minister in the BJP ministry headed by Trivendra Singh Rawat in March 2017. His relations with Chief Minister Trivendra Singh Rawat were uncomfortable as Harak singh Rawat could not get his work done even of his own ministry and had to seek permission from the Chief Minister. Realising, that it would be too early to act when the fortunes of BJP were soaring high, he decided to wait and watch till assembly polls. It would be interesting to known about his future political trajectory as he finds himself in no man's land.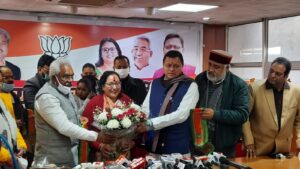 Meanwhile, in the quicksand of shifting political loyalties in the state, Uttarakhand Mahila Congress Chief Sarita Arya today joined BJP. She was announced that ifthe BJP promise her a party ticket from Nainital (reserve) seat she would quit Congress. She was annoyed with the joining of Sanjeev Arya, the sitting BJP legislator from Nainital along with his father Yashpal Arya in the Congress. In all probability, Sanjeev Arya will be the party candidate from Nainital leaving no room for Sarita Arya.