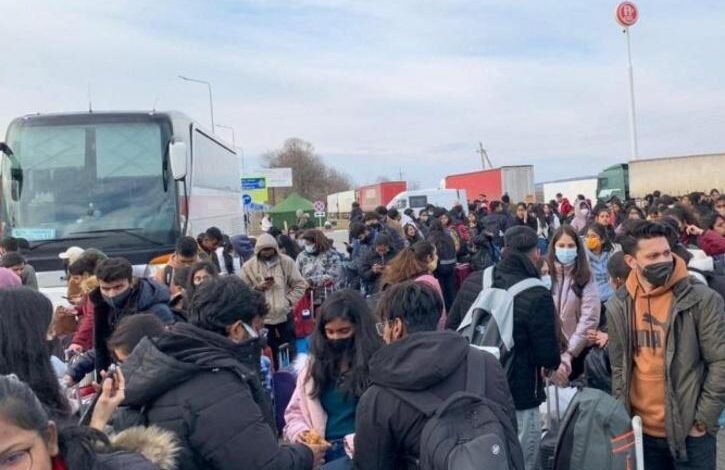 A bit of relief for fleeing Indian students in Poland
Neena Sharma
Warsaw, March 2
Things seem to be settling down a bit for the fleeing Indian students trying to reach the Poland border from Ukraine for homeward journey to India. More than 200, students are expected to reach India by Wednesday. Around two flights have already departed from Rzeszow-Jasionka airport on Wednesday.
The Ukraine border with Poland was a witness to chaotic scenes after February 24, as hundreds of thousands of fleeing Ukrainian refugees and Indian students studying in Ukraine made a beeline for the Shehyni-Medyka crossing, in order to gain entry to Poland. While the Indian embassy in Poland has not released  the number of Indians, who have entered Poland, according to reports close to 2000 Indians are said to have crossed  over safely  here.
"We have seen off, around 200 students, who left today and yesterday for India. More flights are expected to evacuate students tomorrow. On arrival from Ukraine to Poland, they are being looked after by the Indian embassy in Warsaw. All arrangements are being made at the hotel Presidency( Prezydencki, ul PodwisLocze 48)," said J.J. Singh, President of Indo- Polish Chamber of Commerce and Industry and President of Gurdwara Guru Singh Sabha, Warsaw.
The Minister of State for Road Transport and Highways and Civil Aviation Gen V K Singh (retd) had yesterday met  few students at the  Shri Guru Singh Sabha Gurdwara. These students had arrived from Ukraine and  were to later leave for India. Gen V.K. Singh (retd) was in Warsaw to oversee the evacuation  process of Indian nationals.
The Indian embassy had on March 1 issued a new advisory, urging Indians presently in Lviv and Tempoli and other places in western Ukraine to travel at the earliest to Budomierz border check-point for a relatively quick entry into Poland, avoiding the  Shehyni-Medyka border crossing which continues to be congested. The officials are deployed at Medyka and Budomierz border check-points
JJ Singh said that, few Indians who have come from Ukraine have also sought refuge at their friends and relatives who are temporary residents here. "The students are being looked after and cared for by the embassy, while others have found succour with their friends and relatives. We are doing everything to provide assistance to the students," he said.
Meanwhile the Polish government has condemned reports that it is turning away non-white people seeking to cross the borders from Ukraine as " fake news". Such claims have been widely shared on social media and news channels, where there have also been reports about the mishandling of Indian students by the Polish officials, which has been rejected by Poland's Ambassador to India Adam Burakowski, who tweeted that, " Poland is allowing to enter without any visa all Indian students who escape from Russian aggression in  Ukraine."
However, situation continues to remain bleak for the India students, who are still holed up in the bunkers in Ukraine or are waiting for a safe passage at the Ukraine borders with neighbouring countries. The plight of these students  has not escaped the Indians living in Poland. " We have been appalled by the pictures of Indian students viral on social media being beaten up by the Ukrainian officials at the border," said an Indian student studying at Lodz University, on condition of anonymity.
(Neena Sharma is a senior journalist currently based in Poland)