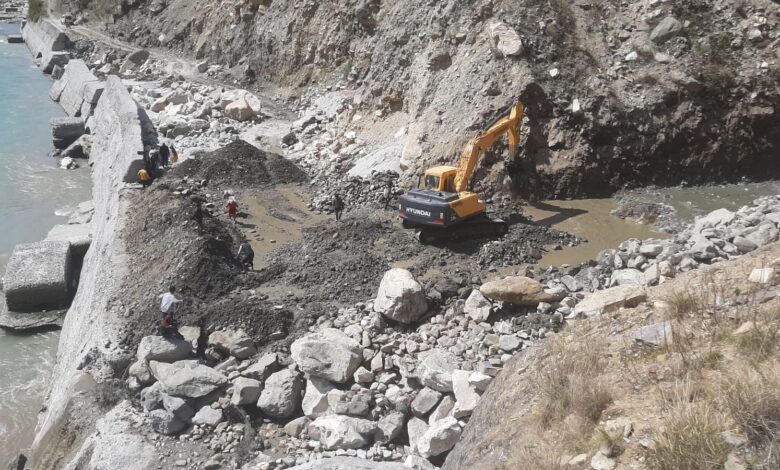 Nepalese villagers object to construction of embankment on river kali at Dharchula
B.D.Kasniyal
Pithoragarh, March 15
Some Nepalese organisations have objected to the construction of an embankment being done by India on its' own side on River Kali which forms the border with Nepal in Dharchula town of Pithoragarh district of Uttarakhand.
The Nepalese objected charging that India has been trying to artificially divert the flow of River Kali towards Nepal by constructing an embankment by encroaching 10 meters of Nepalese land.
Three Nepalese organisations namely Nepal Dalit Sangh, Nepal Tarun Dal and Nepal Vidhyarathi Sangh have sent a joint letter on the issue to their  government at Kathmandu through district administration Darchula, and have complained about the embankment.
"We have written to our government that it should check if international parameters are being violates by India on constructing the embankment with an aim to divert the flow of river artificially at Ghatkbola." said Ramesh Bhatt,  president of Nepal Vidyarathi Sangh.
The Nepalese youths also threw stones from their side on Indian workers who were working at Ghatkhola on the embankment construction work." We have received a complaint that the labourers of the contractor working at Indian side of river at Ghatkhola have been stoned  by some Nepalese youths on Sunday. No one received any injury and after protesting for half an hour the Nepalese youths went away.  We have continued the work to complete the project on time before this monsoon." said A.K. Shukla, SDM, Dharchula.
According to sources, the youths who protested belonged to Bangabagar village of Nepal and are fearful that if Indian workers deposit debris of construction in the river, , the river might flow towards Nepal resulting in floods during monsoon.  "The incident was  local in nature and there was no further protest," said the SDM.
Deepak Rongkali, president of Rung Kalyan Sanstha at Dharchula has said that India is making embankment on it's own side and this should not concern Nepal. "While they were constructing embankment on their side, we have not objected ,why they are objecting when we are constructing embankment on our side ?"asked Ronkali.
The construction of more than 1700 meters embankment at Indian side of River Kali, that forms the border between India and Nepal was started only last week by Irrigation department after Pithoragarh District Magistrate instructed the construction agency to complete the work before the onset of Monsoon this year.
"The need of embankment on both the banks of river Kali, was felt after 2013 rain disaster to save land and building  of their respective countries. While Nepal had completed the construction of embankment, India is constructing it these days, " said the SDM, Dharchula.