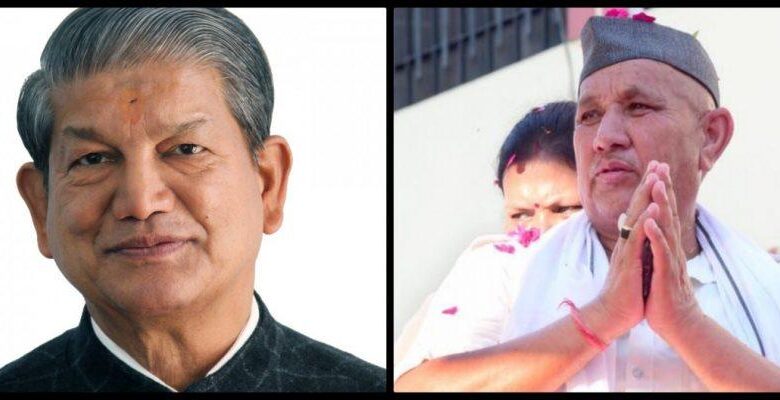 Harish Rawat under fire from party leaders demand his own sacking from Congress party
S.M.A.KAZMI
Dehradun, March 15
Braving attacks from party leaders following humiliating defeat of Congress party in the recently concluded state assembly elections in Uttarakhand including allegations of sale of party tickets, former Chief Minister and party's Campaign committee in-charge Harish Rawat has hit back by asking the party to sack him.
Terming the allegations levelled against him by Ranjit Rawat one of the Working President's of Uttarakhand Congress of selling party tickets, Harish Rawat said that the allegations of sale of party tickets is a serious one and he should be sacked from the party. He said that the allegations are being levelled against a person, who had been Chief Minister, state Congress President and general secretary of the party and member of the Congress Working Committee (CWC) by another person who also holds an important position in the party then it becomes even more serious. He wrote in his tweet that it is an appropriate occasion of festival of Holi to burn the "evil named Harish Rawat".
Harish Rawat had remained a controversial leader in Uttarakhand since the inception of the state in 2000. He had a running feud with veteran Congress leader and former Chief Minister N.D.Tewari. During the tenure of Tewari as Chief Minister of the state from 2002 till 2007, Harish Rawat acted as the main opposition to him and left no chance to undermine him. He was dead against the group of party leaders owing allegiance to Tewari. Harish Rawat led a group in Uttarakhand Congress which opposed the elevation of Vijay Bahuguna as Chief Minister after 2012 state assembly elections. Despite being a Union Minister from 2009 till 2014, he continued to snipe at Bahuguna and finally got rid off him following 2013 natural disaster. He played a crucial role in convincing the party high command that the state government response to the disaster was dismal and there was a need for change of guard. He replaced Bahuguna as Chief Minister in February 2014 but was unable to keep his flock together particularly leaders belonging to Tewari faction. Ten Congress legislators led by Vijay Bahuguna left Congress to join the BJP bringing down his government which was later reinstated on the intervention of the Supreme Court directions. But he lost the 2017 state assembly elections badly. He himself lost from both the assembly segments of Kiccha and Haridwar( rural) from where he contested the polls. The party was reduced to its' worst tally of 11 seats in the house of 70 members.
After the poll debacle, Pritam Singh, a legislator from Chakrata was made state Congress Chief but Harish Rawat also had problem with him. After the demise of Indira Hariydesh, a senior party leader hailing from Haldwani who was leader of opposition in the state assembly, Harish rawat convinced party high command to remove Pritam Singh and make him leader of opposition. He got his own man Ganesh Godiyal as state party president.
Harish Rawat also had strained relations with state party general secretary In-charge Devendra Yadav who was trying to take everybody along. Harish Rawat wanted free hand in the distribution of tickets which he was able to do to some extent.
Earlier, Harish Rawat who was party general secretary in-charge of Punjab was blamed for the ruin of the party in the state. Former Punjab Chief Minister Amarinder Singh had blamed Harish Rawat of playing dirty and tried to prop up Navjot Singh Sindhu. After the removal of Amarinder Singh as Chief Minister, both the leaders exchanged unpleasant things against each other. Amarinder Singh also accused Harish Rawat in his resignation letter.
After Harish Rawat returned to Uttarakhand after the coronation of Charanjit Singh Channi as Punjab Chief Minister and had a tiff with Devendra Yadav, party general secretary In-charge of Uttarakhand, Amarinder Singh tweeted "You reap, What you sow".
Interestingly, another senior Congress leader Sunil Jakhar, a former Punjab Congress Chief in an interview with a television channel yesterday blamed Harish Rawat for scripting the defeat of the party in Punjab. Jakhar said that Harish Rawat came with a set agenda to promote Navjot Singh Sidhu, who demanded greater say and played a big role in the replacement of Amarinder Singh with Charanjit Singh Channi.
Sunil Jakhar said that he suspected that he got his agenda implemented at the cost of bickering. He further said in the interview that he told Mallikarjun Kharga, another senior Congress leader that Harish Rawat may be in-charge of Punjab Congress but he never accepted him as his in-charge.
On the issue of debacle of Congress in Uttarakhand and Harish Rawat personally losing elections, Sunil Jakhar said that it was probably "divine justice". Meanwhile, Devendra Yadav, general secretary in-charge of Uttarakhand Congress has advised the party leaders to avoid accusing each other in public. He said that party has lost elections but not the courage. He announced that Uttarakhand Congress leaders would meet after Holi to discuss the issue of electoral debacle.