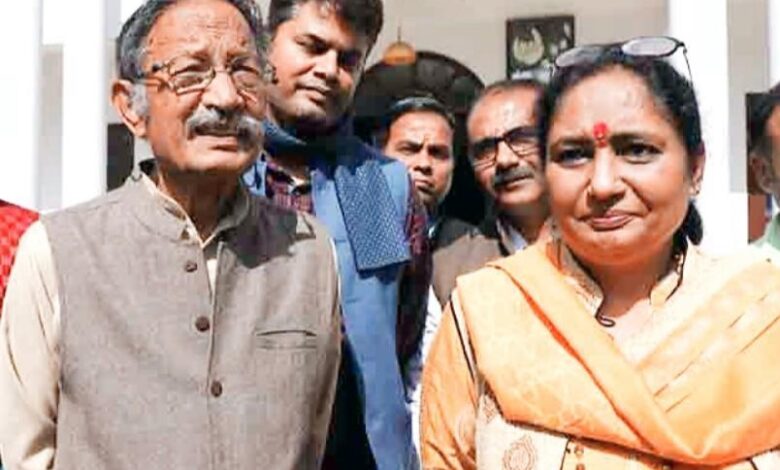 Next generation of Bahuguna-Khanduri family starting a new political innings
S.M.A.KAZMI
Dehradun, March 24
The elevation of BJP legislator from Kotdwar assembly segment, Ritu Khanduri who is daughter of former Uttarakhand Chief Minister and former Union Minister Maj. Gen. B. C. Khanduri (retd) as the first woman Speaker of Uttarakhand assembly and induction of Saurab Bahuguna, son of former Uttarakhand Chief Minister Vijay Bahuguna in the swearing in of the new BJP government in the state marks a new chapter in the politics of Bahuguna-Khanduri families, the first political family of the region.
Since, Maj. Gen. B.C. Khanduri (retd) retired from active politics after his last stint as Pauri Garhwal Lok Sabha member from (2014-19) and eclipse of Vijay Bahuguna from state politics following his removal as Chief Minister by Congress party high command and his subsequent defection to BJP along with nine other party legislators in 2016, the family has again been rehabilitated in the corridors of power in the state.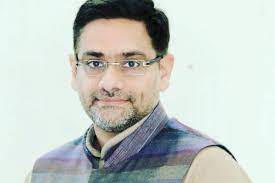 Both, Ritu Khanduri and Saurba Bahuguna are second term BJP legislators. Saurab Bahuguna retained his Sitarganj assembly seat in Udham Singh Nagar district of Kumoan division while Ritu Khanduri, who was shifted from her Yamkeshwar seat to Kotdwar won again. Saurab Bahuguna is grandson of Hemwati Nandan Bahuguna, who belonged to pauri Garhwal district but
did his politics from Allahabad. However, he fought one of the most challenging political battles after quitting the Congress from the Pauri Garhwal Lok Sabha seat and won in the 1980. He never returned to Garhwal after that historic victory.
His son Vijay Bahuguna entered politics after quitting as a judge of the Mumbai High Court during the Uttarakhand statehood agitation in 1994.
Interestingly, his first cousin Maj Gen BC Khanduri (retd) also entered politics and became a Lok Sabha BJP MP from Pauri Garhwal in 1991.
Hemwati Nandan Bahuguna was a maternal uncle of Khanduri. Vijay Bahuguna, who fought the 1998 Lok Sabha polls from Pauri Garhwal, and lost to his cousin Khanduri later shifted to the Tehri Garhwal Lok Sabha seat and fought and lost two consecutive parliamentary elections to the sitting BJP MP Maharaja Manvendra Shah in 1999 and 2004. Maharaja Manvendra Shah, who represented the Tehri Lok Sabha seat eight times, died in 2007.
In the bypoll held after his death, Vijay Bahuguna tasted his first electoral victory by defeating Manujendra Shah, son of the deceased Maharaja. Bahuguna again won the Tehri Lok sabha seat in the 2009 general elections. After his elevation as Chief Minister after the 2012 state assembly polls, Vijay Bahuguna tried his elder son Saket Bahuguna to retain his Tehri Lok sabha seat in the 2014 bye-elections. But Saket Bahuguna tasted defeat at the hands of Mala Raj Laxmi Shah, wife of Manujendra Shah and daughter-in-law of Manvendra Shah, a BJP candidate.
Vijay Bahuguna himself won the Sitarganj assembly seat to enter the state assembly after persuading a BJP legislator to vacate his seat. After jumping the fence to BJP, Vijay Bahuguna managed to get BJP nomination for his younger son Saurab Bahuguna from Sitarganj which he won in 2017 state assembly polls for the first time.
Similarly, Ritu Khanduri also got elected from Yamkeshwar assembly segment which is part of Pauri Garhwal Lok Sabha seat which his father represented many times since his entry into politics in 1991.
Interestingly, the Bahuguna-Khanduri families had been on the ropes since the elevation of Gujrati duo of Prime Minister Narendra Modi and Union Home Minister Amit Shah in BJP politics. Khanduri was known to be close to Advani camp in BJP politics and due to old age decided to retire. His son Manish khanduri decided to join Congress and unsuccessfully contested the 2019 Lok Sabha polls from Pauri Garhwal.
Vijay Bahuguna, after his defection to BJP since 2016 has been in political oblivion. Being from Congress background, he has neither been made a Rajya Sabha member nor got a gubernatorial post in the present BJP dispensation. However, the elevation of Saurab Bahuguna and Ritu Khanduri as first woman Speaker of Uttarakhand assembly marks a new beginning for the third generation of first political family of Garhwal.