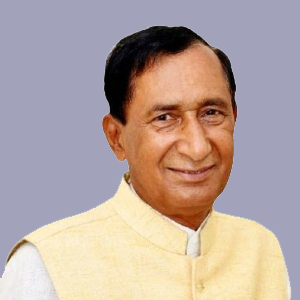 Senior most BJP legislator Bishan Singh Chufal disappointed at being dropped from council of ministers
B.D.Kasniyal
Pithoragarh, March 24
Bishan Singh Chufal, senior most Uttarakhand BJP legislator has expressed his disappointment at being dropped from the state council of ministers and blamed party leaders of humiliating him.
Talking to this correspondent, Chufal said that by refusing him into cabinet the party has denied representation to the original party workers and leaders who worked very hard in the past half a century to build the party.
" Thousands of my workers who had reached Dehradun in expectation of my elevation as a cabinet minister returned back disappointed, annoyed and some even  weeping," said Chufal.
He said that old party workers who build the party by their hard work and sweat even going to jails should not be ignored. " In the present BJP government, four ministers are from Congress background," he quipped.
Asked if he has received any communication from party high command to give him other responsibilities like a seat in Rajya Sabha, Chufal  said that he has not yet received any communication from any leader. The six time BJP legislator from Didihat in Pithoragarh district, Bishan Singh Chufal denied the rumors that Chief Minister Pushkar Singh Dhami may contest elections from his Didihat seat since his native place falls in the assembly segment.
"I am not willing to give up my seat as an MLA from Didihat, as it will disappoint the people who have expressed their faith in me for 6th time consecutively ," said Chufal.
Asked about the rumours spreading in political circles of Dehradun that he persuaded some migrant voters in Khatima, not to vote for Pushkar singh Dhami, resulting in his defeat, Chufal said that there is no truth in such rumours. My constituency is far away from Khatima and while fighting my own elections why and how I can influence someone else's elections," he added.
On the question of Dhami having his native village in his assembly segment, Bishan Singh Chufal said " BJP party did not do well in the area dominated by Dhami caste people during the polls," said Chufal.
Chufal without naming Bhagat Singh Koshiyari, presently Governor of Maharashtra,  said that some senior BJP leaders have been against him right from 1996, and the conspiracy to drop him from cabinet might have been hatched by them." I am not bothered at this stage of my political career, What  I am today is due to blessing of my people of Didihat, for whom I had worked wholeheartedly in the past four decades," said Chufal.