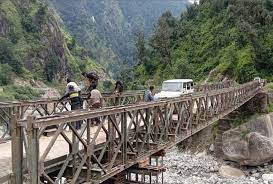 BRO repair Chargad Bailey bridge to reconnect Jauljibi to Munsiyari in Pithoragarh
B.D.Kasniyal
Pithoragarh, April 8
The Border Roads Organization (BRO) has reconnected Jauljibi to Munsiyari motor road, by repairing the Bailey bridge, at Chargad near Baram, which was damaged and closed since  July 2021 floods.
"The 80 meters long bridge at Chargad has been opened for heavy vehicles after one year as the  repair work has been completed and even heavy vehicles will now be able to reach Madkot and Mundo hari via this route," said Col. N.K. Sharma, a BRO officer, who was present at the time of opening of bridge today.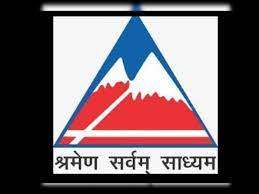 In another breakthrough in connecting border villages by road, the 30 km long road from Jauljibi to  Jhoolaghat has been reconnected after five years following construction of a causeway at Gurjigar. "The 100 meters long causeway on this  road was damaged in 2017 rains," said  Hoshiyar Singh Dhami, a villager of Taleswar village by the road.
According to the villagers, the SSB, paramilitary force guarding Indo-Nepal border will be most beneficial of this reconnection as it will help them do speedy patrolling at the border.
"Besides the border force, this road also serve over 25000 people living in 60 villages at Indo- Nepal border between Jauljibi to Jhoolaghat," said Kamal Joshi, a shopkeeper at Taleswar.
Pithoragarh District Magistrate Ashish Chauhan said that the government is giving top  priority  to connect all broken roads in the remote part of the district including border villages at Indo-Cchina and Indo-Nepal border, before monsoon.
"To connect the remote villages with air connectivity at the time of emergency, we have planned to construct 42 helipads in all 8 blocks of the district, the estimates for which will be prepared by Block Development Officer (BDOs) before April 15 this year," said the DM.