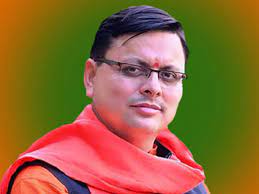 Dhami confident of winning by record margin in Champawat bypoll
B.D.Kasniyal
Pithoragarh,  May 25
Uttarakhand  Chief Minister Pushkar Singh Dhami today claimed that he will create history in Champawat by winning the bypoll with highest margin.
Talking with this correspondent on his brief visit to Pithoragarh town amidst his day long tour of the district, the Chief Minister said that he has the blessings of all the rank and file of the party including state as well as national leaders  and it would be historic win for him in the bypoll.
" The positive response of the people of Champawat in the party's rallies and meetings indicates that voting percentage will increase drastically in the bypoll," he said.
Asked why this sort of miracle did not happen in Khatima assembly election two months ago where he lost despite his party winning a clear majority in the state, the Chief Minister said that it was the will of voters of Khatima which he fully respects."I, fully respect the mandate of Khatima voters, without making any excuses," said Dhami.
The Chief Minister, who has come to the district on a one day visit, today took part in worship of his village deity in his native village ,Had khola in Didihat sub- division and later inaugurated an national level adventure mountain  bicycle  event at Gunji, at the tri-junction of India, China  and Nepal borders in Vyas valley of Dharchula sub- division of the district.