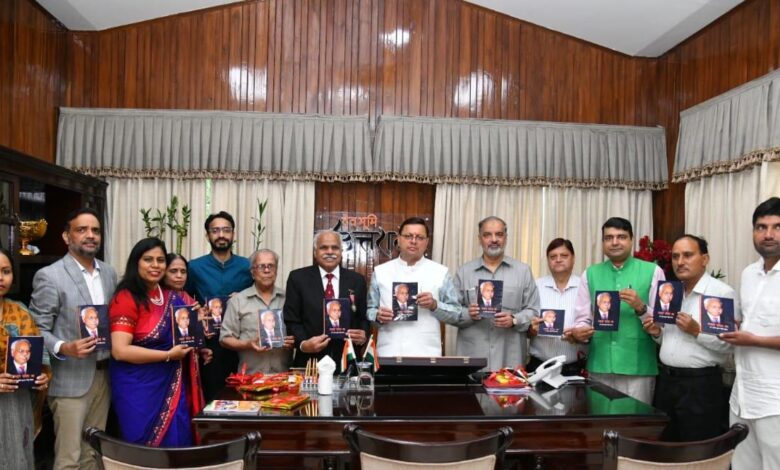 First poetry book of Padam Shri Dr B.K.S.Sanjay released by CM Dhami
Dehradun , July 27
The first poetry book by Padma Shri Dr. B. K. S. Sanjay, a renowned orthopaedic surgeon titled "Uphar Sandesh Ka" was released by Uttarakhand Chief Minister Pushkar Singh Dhami at a function held here today.
The Hindi poetry book is published by 'Bharatiya Jnanpith'. The poems  written in simple words  convey deep messages to the society on the different aspects of life.
Speaking about his book, Dr BKS Sanjay said that every poem has a story behind it and a message to convey which is a unique gift to the society. His poems do not only show his thinking but also shows his concern towards society. There is a strong desire in the poet's mind to bring changes in society which could be brought with  , change in thoughts, mutual cooperation and conversation.
During the programme, Dr. Sanjay recited the poem "Sapne Apke Aur Hamare" from his book which was well appreciated by the Chief Minister who also congratulated Dr. Sanjay for his first poetry book while conveying his best wishes for his bright future and good health. Senior litterateur Prof. Dr. Yogendra Narayan Sharma 'Arun', Urdu poet and Industrialist Dr. S. Farooq, litterateur Dr. Muniram Saklani 'Munindra', Dr. Satyanand Badoni, Poet Shrikant Sharma, Bhavna Sanjay, Dr. Pratik Sanjay, Gynaecologist Dr. Sujata Sanjay, Orthopaedic Surgeon Dr. Gaurav Sanjay and Sonia Rawat were also present during this programme.
Padma Shri Dr. Sanjay is a multi-faceted personality who is renowned for his medical as well as social works. Dr Sanjay is an outstanding writer, orator and a columnist who has command on both Hindi and English languages. It is unique for a surgeon to write poetry.Dr Sanjay not only reconstructs bones and joints but also creates high quality poetry as seen in his maiden collection. His poems deal with motley subjects including love, affection, service and compassion for society.