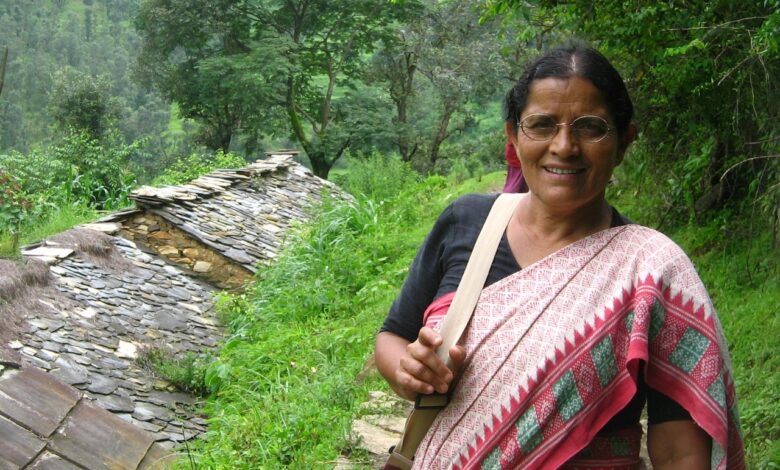 'Padam Shri' awardee Basanti Devi living in poverty.
B.D.Kasniyal
Pithoragarh, July 29
Basanti Devi (64), a 'Padam Shri' awardee for her relentless work to awaken women in Kosi river valley of Kumoan region of Uttarakhand to protect water and forest wealth is herself facing financial crisis in her old age as she has no regular income source.
"After my receiving the 'Padma' award, several people and organisation across the country invite me to deliver speeches on the subject of environmental protection but I am in no position to go there as I have no money to bear my travelling expenditure," said Basanti Devi.
A social worker, who was widowed at the young age of 14 years, than came in touch with Mahila Ashram, Kausani in Bageshwar district and remained there with the blessings of late Sarla Behn and under guidance of the present patron of Ashram, Radha Behn, Basanti Devi started working with women of Kosi river valley to protect the river and it's forest wealth.
She continued her studies in the ashram and became a teacher of the ashram.
"After I retired from my work at the Ashram, some 4 years ago, I live alone in Pithoragarh town where my late father had constructed a house for me during his lifetime," said Basanti Devi.
Basanti Devi says that she gets a honorarium  of Rs. 2000 from Mahila Ashram, Kausani and a sum of Rs.1200 as widow pension." My grocery, water, electricity bills and LPG cylinder purchase is mostly paid by my relatives, and I have no money to travel frequently," said Basanti.
D.S. Bhandari, a member of citizen welfare society along with Basanti Devi and other members of society today met Pithoragarh District Magistrate Ashish Chauhan and  requested the state government to  give her an all India level pass for travel."As the matter is beyond my powers, I have forwarded it to state government to take decision on the matter," said the DM. She is also the recipient of the 'Nari Shakti Samman' in 2016.