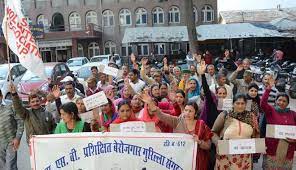 SSB Guerrillas finally get relief from Nainital High Court
B.D.Kasniyal
Pithoragarh, Aug 5
More than 20,000 Sahastra Seema Bal (SSB) guerrillas and their families, living in the border villages of Uttarakhand, have a sigh of some relief following a directive by a single judge bench of Nainital High court headed by Mr Justice Sharad Kumar Sharma, to the union government to give benefits of service, pension and family pension on the lines of orders issued by Manipur High Court, on a petition filed by the guerrillas.
"We are hopeful to get attention of the union government after the honourable high court understood our pains," said B.N. Dalakoti, President of guerrillas organisation in Uttarakhand.
The decision was delivered by single judge bench of high court on the petition of a SSB guerrilla widow Anusuya Devi from Tihari and Mohan Singh of Pithoragarh along with 29 other ex- guerrillas who had sought justice from the court.
The SSB Guerrillas, recruited by special service Bureau under cabinet secretariat, from 1963 onward to meet intelligence and security requirements at border districts along Indo-China border, following Sino-India war in 1962.
'Guerrilla's, both men and women of Sahastra Seema Bal (SSB) who were recruited after the 1962 Indo-China war,  and left to fend for themselves. Thousands of youth both men and women from border areas of Uttarakhand were recruited as 'Guerrillas' after the 1962 Indo-China conflict. They were given arms training for months with an aim to fight against any design of China in the border areas. However, after some time the scheme was abandoned and 'Guerrilla's were left to fend for themselves. For the past 60 years, these 'Guerrillas' as they are called had been fighting for their livelihood and rights with the central as well as state government but to no avail. They had countless dharnas and protests at Jantar Mantar in New Delhi, Dehradun and district headquarters of Almora, Chamoli and Pithoragarh but they received only assurances which were never fulfilled.
The SSB 'Guerrillas' are holding dharna for the past 13 years at district headquarters at Almora in support of their demands but none has listened to them. There are 20,000 'Guerrillas' still in Uttarakhand. The SSB 'Guerrilla's scheme was winded up in 2002 and some of them were employed in the insurgency hit Punjab and J&K for intelligence gathering but later relieved.
They were abandoned and were left jobless after the special service bureau was renamed as Sashastra Seema Bal (SSB) in 2001."As the SSB was given charge to guard Indo-Nepal border, but the guerrillas were left out despite been attached with the force that had been converted as a para-military force under Union Ministry of Home Affairs," said Surendra Ram, President of SSB Guerrillas organisation in Pithoragarh district.
"We are protesting for our rights since 2006 onwards but no governments have taken any cognizance till date. We hope that the high court decision will move the union government to give justice to those who have rendered their youth for the country," said Dalakoti.
According to Dalakoti there are over 1 lakh SSB volunteers spread in all border districts of India, out of these more than 20,000 are from in Uttarakhand.
According to sources, most of the SSB guerrillas have died in poverty and their widows are living in absolute poverty and those who are still alive are just surviving as labourers, small farmers or doing other odd jobs. "The guerrillas  have given their best days to the nation, and it is duty of government to take care of them now," said Dalakoti. Interestingly, the Himachal Pradesh high court in a decision on December 4, 2021 had ruled in favour of the SSB Guerrillas directing the Union  government to pay them their dues in pension and other perks. A total of 5782 guerrillas including men and women were to be benefitted from the decision of the Himachal Pradesh High Court.