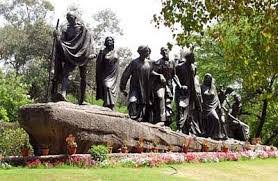 Social awareness preceded independence movement in Uttarakhand hills
B.D.Kasniyal
Pithoragarh, Aug 15
The freedom movement before independence in the hills of Garhwal and Kumon which now form part of  Uttarakhand state presently, not only spread anti-colonial feelings among people but also fuelled social movements to empower women and dalits, who were considered untouchables  due to spread of Gandhian ideology.
"Freedom movement in Uttarakhand region actually began during 1857 revolt against the imperialists, when Kalu Mahara, Bishan Singh Karayat and Anand Singh Phartiyal aligned with Nawabs of Avadh to challenge the British rule in the region. However, the revolt was crushed  and all the three were punished and hanged to death by Britishers but they created an  awakening  against imperial rule," said Devendra Oli, a researcher on the subject .
Much before the Indian National Congress was formed by A.O. Hume in 1885, people of Almora had constituted a Debating Club in the town and started discussing the local interests. "It resulted not only in mushrooming several other such organisations across the whole Uttarakhand region which debated and showed resentment against the division of Bengal by the Britishers in 1905. These interaction also motivated people ,later to participate in the activities of Congress party," saids Dr Shekher Pathak, a former professor of history in Kumaon University.
Due to emergence of such organisations based on democratic ideology, and awakening by press, in the region, the social awareness against exploitation of Dalits and women started  getting discussed. " It resulted into coming  up  of three prominent main social workers  from Dalit society into mainstream. While Jayanand Bharati in Pauri Garhwal worked  to restore rights of Dalits to ride palanquin during marriage ceremonies, Hari Prasad Tamta and Khushi Ram Arya from Kumoan region, worked to empower Dalits by giving them a general identity as 'Shilpkar' (artisans) in place of traditional defamatory named used for them by Savarnas," Pathak said.
It resulted into formation of Gandhian institutions in Uttarakhand region during  independence movement and later  in order to empower Dalits, women and to trigger an economy based on Gandhian ideology.
"Establishing Laxmi Ashram at Kausani by Sarla Behn and Pashulok by Meera Behn at Rishikesh, created several 'Sarvodaya' workers like Sundar Lal bahuguna, Radha Behn and Chandi Prasad Bhatt,  which not only carried out 'Sarvodaya' movement but also fuelled independence movement, "said Charu Tiwari, a Delhi based journalist hailing from Uttarakhand.
While in Kumaon region the independence movement was led by Govind Ballabh Pant, Har Govind Pant and B.D. Pandey, it was led by  Barrister Mukundi Lal and Ansuya Prasad Bahuguna in the Garhwal region. "These awakened people prepared wide the background for the mass movement in Haridwar,  Dehradun Almora and Pauri before 1920, when the real mass movement started in the then hills of Uttar Pradesh.
The formation of Kumaon Parishad in the year 1916 and it's merger with freedom movement in 1926  resulted into providing  enlightened Congress workers at mass a level. " The 'Coolie Begar" denial movement of 1921 on the banks of Saryu river in Bageshwar, created vast awareness and anger against British rule and after it was recognised by Mahatma Gandhi, it led to mass movement for freedom struggle, " said Charu Tiwari.
"While meeting held by Mahatma Gandhi and Jawahar Lal Nehru at Haldwani, Bhawali, Bageshwar and Kausani in 1929, and stay of Gandhi at Kausani to write comment on 'Anashakti Yoga' of 'Bhagwad Gita', spread awareness in Kumaon region. On the other hand  work of Barrister Mukundi Lal and Bulaki Ram along with Raja Mahendra Pratap, Manvendra Nath Rai, Mahavir Tyagi and Namdev Shastri, who made Dehradun as their focal point of activities, help spread awareness against British rule in Garhwal region.
"The breakthrough in freedom movement in Uttarakhand came on April 23, 1930, when Chandra Singh, a son of Uttarakhand and soldier of 2/18 Garhwal riffles, refused to open fire on peaceful Pathan's, who were carrying out a procession against British rule in Peshawar.  This incident  filled the Uttarakhand residents with pride and courage.
The contribution of press in freedom movement in the region which got published from various places cannot be ruled out. " The contribution of 'Almora Akhbar', from 1871,  'Garhwali', published by Vishambhar Dutt Chandola from 1905 and  'Karm Bhumi'  published by Bharat Dutt Dhulia from 1939 onwards did work immensely to create awareness against the imperial rule,." said Tiwari.
"Till the quit India movement was launched by Mahatma Gandhi in 1942, the freedom movement had reached every nook and corner of Uttatakhand region and amongst all the sections of society, whether it be educated ones, illiterates, Dalit, tribals or women. All had started considering Gandhi as their leader, that resulted into mass participation in 'Quit India' movement in 1942, from all corners of the region, " said Charu Tiwari.
The contribution of 4 martyrs, who laid their lives to British bullets at Khumar village of Salt region of Ranikhet sub-division of Almora  on September 4, 1942, can never  he forgotten. These four  martyrs included, Khimsar Nand and Gangaram, ( real brothers), Bahadur Singh and Chudamani of Khumar village.