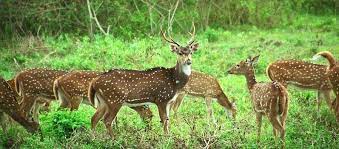 Uttarakhand to seek review of SC judgement on eco-sensitive zone in Askot Musk Deer Sanctuary
B.D.Kasniyal
Pithoragarh, Aug 22
Uttarakhand Government has assured  the affected villagers of Askot Musk Deer Park Sanctuary in Pithoragarh, to file a review petition in the Supreme Court against it's judgement to have a mandatory eco-sensitive zone (ESZ) of at least one kilometre in very national park and wildlife sanctuary in the country starting from its demarcated boundaries.
Harish Dhami, Dharchula MLA where the Askot Musk Deer Park sanctuary falls took up the matter with the Uttarakhand Chief Minister Pushkar Singh Dhami recently who assured to file a review petition in the Supreme court against the judgement.
Askote musk deer sanctuary was notified in the year 1986, to protect endangered  species of Musk Deer. The notification included 123 villages along the sanctuary, where all developmental works were banned immediately after the villages were  included in eco sensitive  region of the sanctuary. The villagers fought a long battle seeking removal of their villages from the eco-sensitive zone since it hampered all the developmental activities in the villages.
"The 123 villages, that were excluded from eco-sensitive zone by the Uttarakhand state government in the year 2014, have again been included into the eco sensitive zone as directed by the recent judgement of Supreme Court. This decision will affect ongoing developmental programmes in these backward villages," said Dhami.
The Congress MLA, who met state Chief Minister few days ago in this connection, , has said that he will struggle to get the developmental rights of people of the sensitive zone back.
The judgement , that was delivered on  June 3, this year, directed that  every national park and wildlife sanctuary of the country  will have mandatory eco-sensitive zone at least one kilometre starting from its demarcated boundries.
The judgement was delivered on a petition seeking court's intervention to protect forest in Nilgiri district of Tamil Nadu.
" After this judgement, several developmental programms of roads, electrification and other construction works, have been suspended and are not likely to resume if the honorable court does not review its' own verdict," said Dhami.
Pithoragarh,Additional District Magistrate, Phincha Ram Chauhan has written to over 15 developmental departments of Pithoragarh district, to give details of developmental works proposed or running in these villages." We have to collect information of proposed developmental works in these villages to be conveyed to the court," said P.R. Chauhan, ADM, Pithoragarh.
Chief Conservator  of Forests, Uttarakhand, Vinod Kumar, has said in a letter to all DFO's of the state that they should  prepare list of all infrastructural assets proposed in the eco sensitive zone, using satellite Imagery and Drone mapping, so that  it could be presented before the Supreme Court.