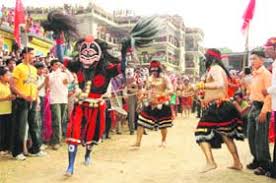 Annual 'Hill Jatra', a festival of masks held in Soor valley of Pithoragarh
B.D.Kasniyal
Pithoragarh, Aug 24
Thousands witnessed the unique annual cultural event of "Hill Jatra," a festival of masks, celebrated in Kumaur village of Soor valley of Pithoragarh district today.The villagers are of the opinion that the festival is being celebrated in the village from past five centuries.
"The festival of masks, that marks celebration of beginning of agriculture season in Soor valley, depicts various characters, like pairs of ox, farmers ploughing their fields, women transplanting paddy plants, and other characters required in agriculture,  depicted in the two hour long celebrations that commenced in Kumar village," said Kundal Singh Mahar (72), a senior citizen of the village.
According to Mahar, one of the four Mahar brothers, who once showed his grit by cutting head of a hostile buffalo before Nepalese king, some 500 years ago, was gifted masks of "Lakhia Bhoot" and other agricultural characters by the king." Since then, we are celebrating "Hill Jatra" every year along with the festival of "Aathon-Saton", said Kundal Singh Mahar.
"The festival depicts the agricultural practices of bygone era in traditional costumes realising the hard work that used to involve in producing paddy, which is main crop of the Soor valley." said Vipin Gupta, a spectator.
While the festival of masks, depicting agricultural characters of bygone era, is also celebrated in other villages of Soor valley during the festival of "Aathon-Saton" in this month. Kumaur is only village where "Lakhiya Bhoot" is worshiped as part of Lord Shiva order " We consider "Lakhiya Bhoot" as an incarnation of angry form of Lord Shiva, who sent him to 'Yagna' of 'Daksha Prajapati' to destroy the 'Yagna' after the Lord's better half Sati sacrificed herself in the 'Yagna' fire since she could not tolerate the humiliation of her husband-Lord Shiva. " The goddess had sacrificed herself wishing to have Lord Shiva as her husband  in her next incarnation as well." said Kundal Singh Mahar.
The celebration started with adoration of masks, specially made for the occasion with family priest in the morning." After worshiping masks of 'Lakhia Bhoot', 'Birbhadra' and other 25 characters in the morning, the villagers gather at traditional court of village in the afternoon and "Lakhia Bhoot "is awaken by singing his brave deeds and his might by traditional singers." When the angry "Lakhiya Bhoot" embodies someone, he is taken to large gathering of devotees where he blesses the  devotees," said Yashwant Singh Mahar,  a journalist and resident of the Kumaur village.
The scholars and cultural historians of Soor valley, relate the origin of festival with "Indra Jatra", which is celebrated for eight days in Kathmandu valley of Nepal by local Mewer community." There is only difference between two festivals, while heaven king 'Indra' is adored by Mewar community to get blessings  of good rains during Kharif crop, here "Lakhiya Bhoot', an incarnation of Lord Shiva is adored to get blessings of good crop, health and prosperity by the locals," said P.D. Pant, a local cultural historian of Soor valley.