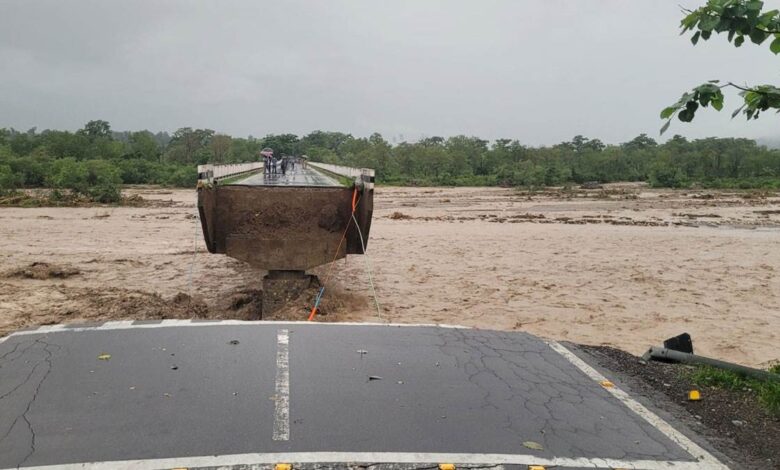 Another bridge collapsed, 38 bridges went down in past five years in Uttarakhand
S.M.A.KAZMI
Dehradun, Aug 20
Anoop Nautiyal, Chairperson and Founder of Social Development for Communities Foundation (SDC) and a concerned citizen of state of Uttarakhand tweeted following the collapse of another bridge in the vicinity of state capital Dehradun following heavy rains and flooding of rivers on Saturday morning," Should Uttarakhand simply accept the washing away of bridges as an act of God, a fit accompli and move on. Or it should stop back a bit, be critical and genuinely evaluate if there is something that has gone wrong; deciding what should be done to ensure minimal damage in future".
A vital bridge on river Song in Raipur area connecting Dehradun with Thano  collapsed last night following heavy rains in its' catchment area in Dehradun and Tehri districts. Last year, another important bridge on river Jakhan at Rani Pokhri on dehradun- Rishikesh highway near Jollygrant airport had collapsed. It is still in the process of being rebuild as another vital bridge collapsed nearby.
The concern expressed by Anoop Nautiyal was a serious concern since
38 bridges have collapsed in Uttarakhand in the last five years and another 27 bridges are on the brink of collapse. This survey has been done by the state PWD after doing a detailed mapping of each district. The district of Pithoragarh had lost 15 bridges while the capital Dehra Dun lost three crucial bridges in 2021 alone. A n important bridge was washed away in Kedarnath area of Rudraprayag district at Gulabrai in June 2021.
Another important bridge -Haldwani-Ranibagh bridge that connects Haldwani with Bhimtal, Almora and Ranikhet, collapsed in August 2021. A senior PWD official stated that failure to adhere to basic construction norms—soil testing, planning, studying the contours of the hills—is also responsible for the frequent collapse of bridges.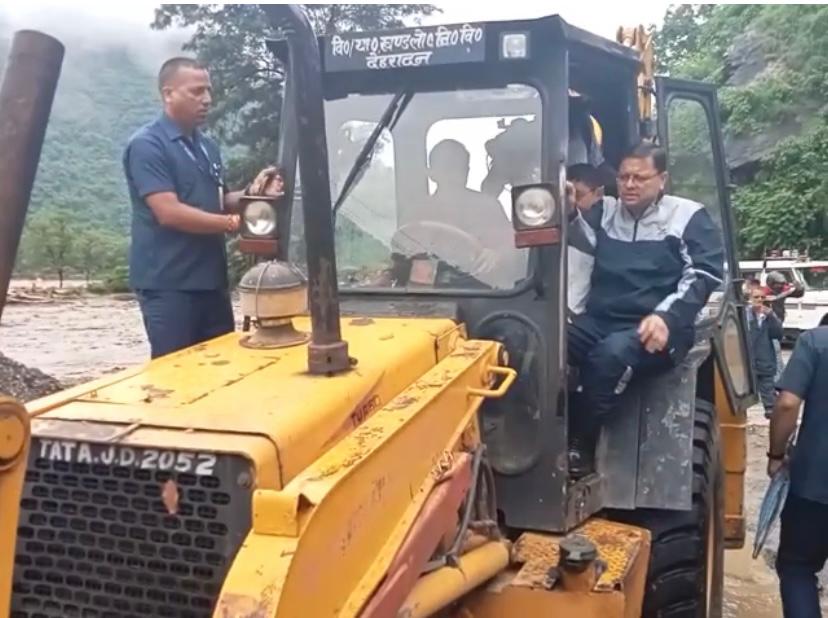 Is it low quality material and corruption which has led to frequent collapse of newly built bridges in the state?
However, Dr SP Sati, a leading geologist of  HNB Garhwal University, said that most of the rivers have become dumping grounds due to construction of CharDham Road and Rishikesh- Karanprayag railway line in the hills while in the foothills massive mining of the river beds had gone unhindered since the creation of Uttarakhand. He said that mining from the river beds increasing the flow of water and weakens the  foundations of the pillars of the bridge, which happened at collapse of Rani Pokhri bridge on river Jakhan.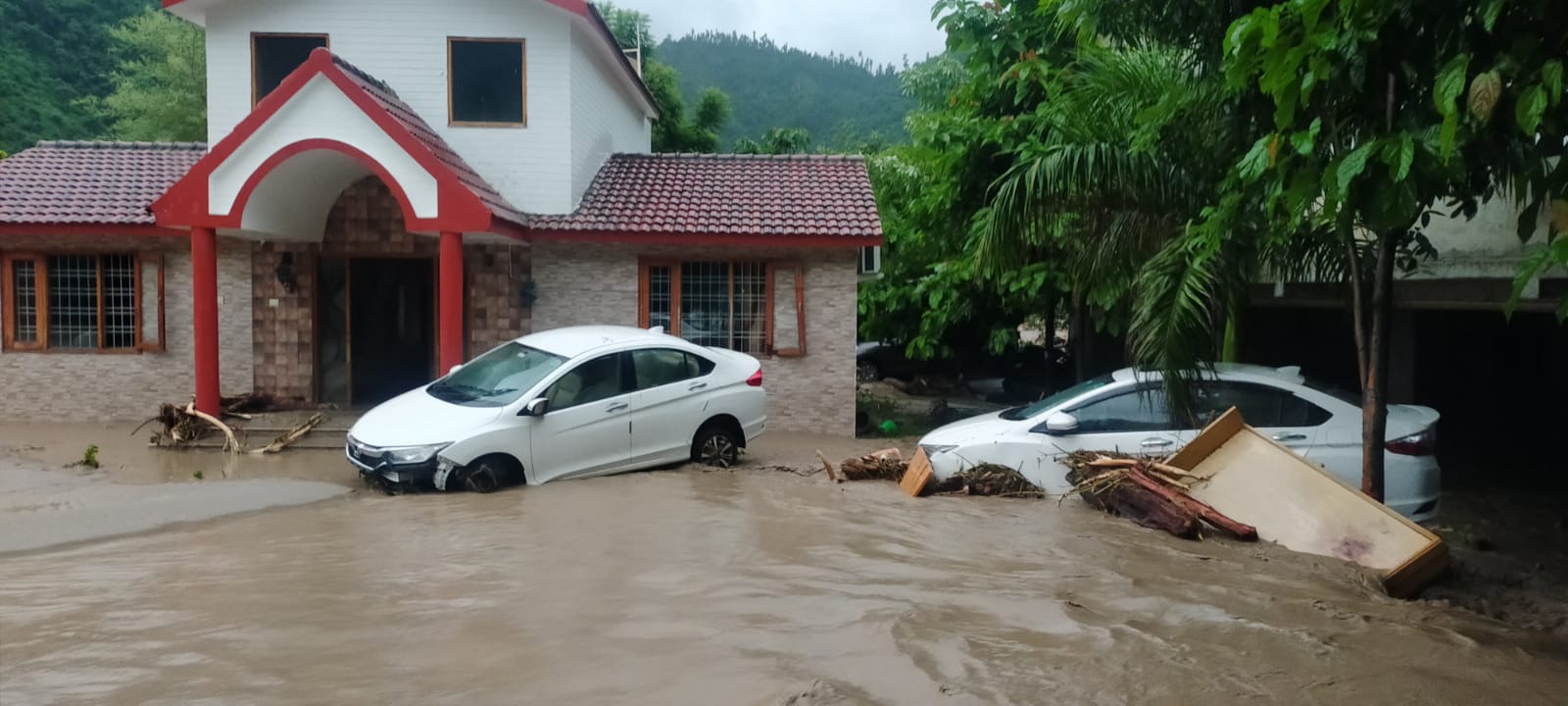 On the other hand, Uttarakhand government had been blaming the elements- such as cloud bursts and flash floods as reasons of such collapses.
Interestingly, river bed mining from all the rivers across the state has been the biggest money spinning venture from which politicians, bureaucrats, contractors and police officials have benefitted immensely.
" The river bed mining has reached gigantic proportions starting from Yamuna in the east to Sharda river in the west of the state. Even the small streams and rivulets are not spared as huge money is involved," said Indresh Maikhuri, secretary of the Garhwal unit of CPI(ML).
A total of Thirty-four PILs have been filed in the Nainital High Court against rampant sand mining and the court has taken cognisance of the problem, but little has changed on the ground.
Experts and scientists point out that sand is a porous material that absorbs water thereby helping to reduce the flow of the water. However, when sand is removed from the river bed, the flow of water becomes faster and deadlier during heavy rains causing damage to life, property and bridges.
Uttarakhand state has been one of the worst disaster prone state's in the country being hit by cloud bursts, flooding, earthquakes, landslides and avalanches taking toll of lives and properties. The state faced the worst natural disaster in June 2013 at Kedarnath where more than 5000 people lost their lives in the deluge as thousands of road, hundreds of bridges, culverts, homes and buildings were washed away. Most of the bridges are yet to be rebuilt.
Meanwhile, Uttarakhand Chief Minister Pushkar Singh Dhami personally supervised the damage caused by the heavy rain and cloud burst in Raipur area of Dehradun.