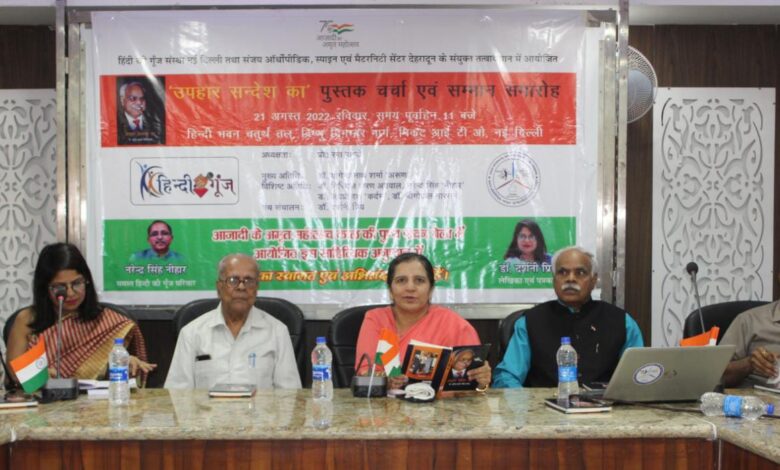 An orthopaedic surgeon and a poet, Dr. B.K.S. Sanjay honoured with "Kavya Bhushan" award
Dehradun, Aug 24
A programme was organized to discuss a poetry book "Uphar Sandesh Ka"written by a world renowned orthopaedic surgeon, Padma Shri Awardee Dr. Bhupendra Kumar Singh Sanjay, Director of Sanjay Orthopedic, Spine and Maternity Center, Dehradun, where eminent litterateurs of the country discussed his poetic craft at Hindi Bhawan, New Delhi on August 23,2022. The book has been published by 'Bharatiya Jnanpith'.
The poet has defined the aspect related to his rural background as the soul of India. The chief guest of the program Dr. Yogendra Nath Sharma 'Arun', an eminent scholar of Hindi, said that if a doctor becomes "Saraswati's" (Goddess of Education, poetry and music) son, then surely it will generate sympathy and he will also prove to be a successful doctor. He said that hi poetic work has become the elixir of inspiration. Dr. Sanjay, a surgical sculptor in the field of medicine, is also successful in literature, which is a proof of a sensitive person in him.
In the presidential address of the program, Dr. Rama Pandey, principal of prestigious Hansraj College of Delhi described Dr. Sanjay's work and his personality as an inspiration not only for the country but for the world. Dr. Rama Pandey said that whenever there is a discussion about the 'Amrit Mahotsav', then your poetry book will also come in the discussion,  as each of his poems is a complete story in itself. , Dr. Sanjay has narrated the value of a mother  and given a message to the nation through the poem titled  "Maa Mujhe Na Janna". He said that the poet believe that  when the all sons of the country will be educated then they will get the values of the life and on that day the daughters will be safe. She further said life should neither be big nor long but life should be meaningful. She prayed that Dr. Sanjay should contribute to the society through his writing as well as a medical practitioner.
Shree Gopal Narsan, Deputy Registrar, Vikramshila Hindi Vidyapeeth, the special guest said Dr. Bhupendra Kumar Singh Sanjay is the pride of the country, who had performed such surgeries as an orthopaedic specialist and established a record that his name reached the Guinness Book of Records and the President of India conferred him the national honor.
Dr. Sanjay Kaushik, an educationist  appreciated Dr. Sanjay's work. On the occasion, Dr. Sanjay was honored with the "Kavya Bhushan Samman" for his first poetry book by "Hindi Ki Goonj", New Delhi. Shri Narendra Singh 'Nihar' said that writing poetry is not easy but there is a doctor sitting among us who started with poetry directly. Dr. Sanjay's poem 'Namaskar' acts as a bridge between two unknown persons, which is a tool to create a soul mate between individuals. Dr. Sanjay's poems are a treasure trove of experience, he added.
Publisher and trustee of Bharatiya Jnanpith, Dr. Akhilesh Jain said that Dr. Sanjay is a living example that a doctor can also do a scholarly work. In his welcome address, Dr. Sanjay credited his achievements in the form of 'Nari Shakti' to his grandmother, mother and wife. Infact the women are the central pillar of the happy and healthy society, he said. The message that Padma Shri Dr. Sanjay gave to the society through poetry is a unique gift to the society.He said that with the inspiration of Maa Saraswati, his pen will continue as long as there is life.
Dr. Gaurav Sanjay thanked all the guests and dignitaries present in the meeting and expressed their gratitude. Vijay Kumar, Samarth Tandon, Shivani Tandon, Pawan Tandon, Sheena, Vibha, Bhupendra Singh, Manoj Kumar, Rajiv, Ram Kishore Singh, Rakesh Jakhetia, Dr. Mangal Sen, Dr. Saudan Singh, Dr. Ravindra Kumar, Amar, Dr. Panna Lal, Amrish Kumar Niranjan, Vishan Das, Urmila, Ankur Dubey, Vipin, Uday Veer Singh, Suman Mohini, Sanjay Kumar Singh, Dr. Ram Babu, Dr. Sunil Kumar Saggar, Dr. Satyam Bhaskar, Prof. Phool Bandhan, Smt. Bhavna Sanjay, Abhishek, Sonia, Lakshmi, Santoshi, Neha and Sumitra were present during the programme.