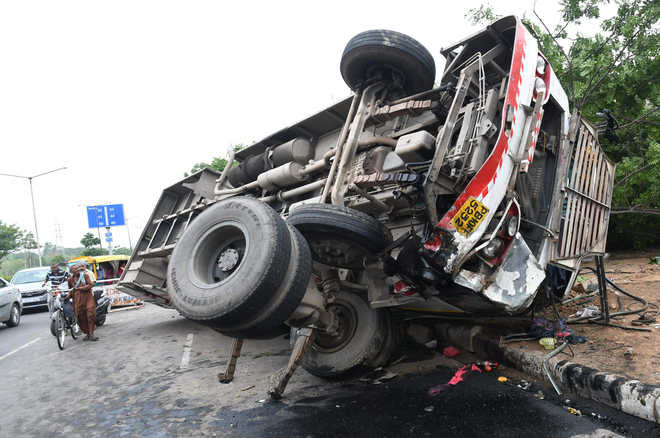 Uttarakhand having the highest number of disabilities due to road accidents in the country: Dr Madhur Uniyal of AIIMS, Rishikesh
Dehradun, Aug 24
Uttarakhand  Director General of Police Ashok Kumar has described the increasing road accidents in Uttarakhand as a matter of great concern for the state. He said that on an average 200 people are murdered in the state every year, whereas five times more about 1000 people die in road accidents in the state during one year. The DGP was speaking on the topic 'Road Traffic Accidents in Uttarakhand' at the 4th 'VoW Policy Dialogue' organized by PHD Chamber of Commerce and Social Development of Communities Foundation SDC Foundation at VoW Cafe, Sahasradhara Road.Dr. Madhur Uniyal, Assistant Professor Trauma Care from AIIMS Rishikesh and senior journalist Gaurav Talwar were the other speakers.
DGP Ashok Kumar said that one of the major reasons for road accidents in the state is the increasing traffic pressure on the roads. He said that at the time of formation of Uttarakhand, the number of vehicles was about 4 lakhs, whereas it has increased 8 times to 32 lakhs presently. He further that the roads have not widened or improved as per the needs of the increased number of motor vehicles. He also cited drunken driving, over speeding and overloading as major reasons for road accidents.
The DGP lamented that breaking the traffic rules has become rampant with some enjoying breaking traffic rules resulting in fatal accidents. He appealed to the people of Uttarakhand and the tourists visiting the state to follow the rules and regulations seriously while driving. He also said that the police is very serious about the cases of road accidents and is making all efforts including training to drivers and traffic cops to reduce them.
Senior journalist Gaurav Talwar said that an analysis of the statistics of road accidents in the state, indicate that the nature of road accidents are different in the plain and hilly parts of the state. In plain areas, where two-wheeler accidents are more frequent, larger vehicles are more prone to accidents in mountainous areas. He said that there is a need to make different strategies for the hills and plain areas to prevent road accidents. He stressed the need to effectively curb over speeding and rash driving. He said that despite having rules, regulations and policies to prevent road accidents, these are not being uniformly implemented. He also stressed on the need for better coordination between various responsible agencies.
Dr. Madhur Uniyal said that most of the working people are dying in road accidents in Uttarakhand. He said that an analysis of the statistics of deaths and injuries of working age people in road accidents, it has been found that Uttarakhand has the highest disability-adjusted life years across the entire country.
He said that there is a tendency to generalize cases of accidents putting over speed and drunkun driving as major reasons of road accidentbut there are many other reasons for accidents. Dr. Uniyal specifically mentioned about road engineering and said that the construction of roads is also responsible for road accidents. He said that zero fatality corridors are being built in many parts of the country and there is a dire need to build such corridors in Uttarakhand. He said that most of the accidents are due to the negligence of the youth. In such a situation, it is the responsibility of the parents to show a lot of understanding while giving vehicles to their children and asked the parents to come to the trauma centers of the hospital to see how many teenagers are suffering due to accidents and how much pain their families are suffering due to this.
The VoW Policy Dialogue was co-chaired by Hemant Kochhar, PHD Chamber of Commerce, Uttarakhand Chapter and moderated by Anoop Nautiyal of SDC Foundation. DIG Traffic Mukhtar Mohsin, SP Traffic Dehradun Akshay Konde, Rashmi Chopra, Venu Dhingra, Sanjay Bhargava, Ashish Garg, Ganesh Kandwal, SS Rasayali, Paramjit Singh Kakkar, Vishal Kala, TN Jowhar and many other citizens were also present.