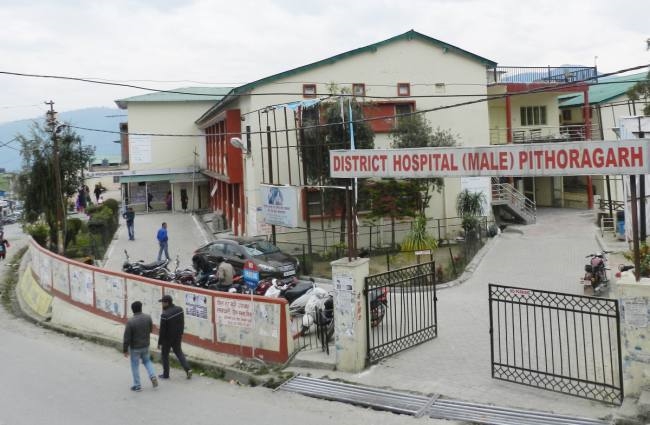 Bed occupancy rate in govt. hospitals highest in Pithoragarh
B.D. Kasniyal
Pithoragarh, Sept 22
Pithoragarh district female hospital tops amongst the government hospitals in Uttarakhand state, where the bed occupancy rate is highest, revealed an RTI query put upby Uttarakhand Research Group, an organisation of researchers based in Pithoragarh.
According to the information revealed in the RTI, Pithoragarh district female hospital has a bed occupancy rate of  270.2 percent as it has a total of only 44 beds which were allocated to over 8679 patients  between 2016 to 2020.
" Pithoragarh female hospital is followed by district hospital Bageshwar in the shortage of hospital beds, where bed occupancy rate is 200 percent of available beds at present," said Shivam, coordinator of the group.
According to Indian Public Health Guidelines,(IPHS),number of beds in an hospital is fundamental unit to determine number of doctors and paramedical staff in a hospital. " It means that if the number of beds remain constant, the number of doctors and para-medical staff cannot be increase according to IPHS parameters," said Shivam.
According to the RTI query, besides these two hospitals other government hospitals in the state namely District Female Hospital, Almora, District Hospital, Chamoli, District Female Hospital, Pauri Garhwal, District Hospital, Pithoragarh, District Hospital, Rudraprayag, District Hospital, Baurari, Tehri Garhwal district and Female Hospital, Uttarakashi are having higher bed occupancy than that of parameter of 80 percent, set by IPHS.
According to the calculations done by research group, to meet the bed occupancy ratio in district hospitals as per IPHS norms, a total of 436 additional beds are required in these district hospitals." If this requirement, which is at 25 % to 70% in different hospitals under study, gets fulfilled, it can only justify the number of doctors and paramedical staff there for better health facilities as compared to the situation presently, " said the research group coordinator.