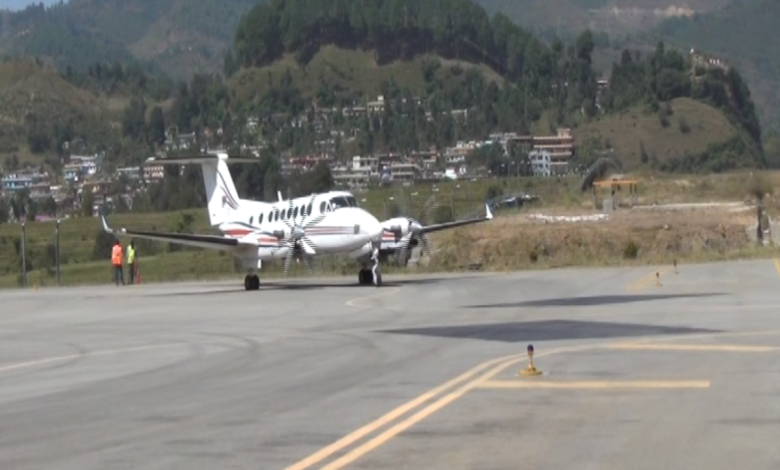 Naini-Saini airport in Pithoragarh likely to be handed over to IAF
B.D.Kasniyal
Pithoragarh, Oct 3
Naini- Saini airport in Pithoragarh district might be handed over to Indian Air Force for better management in future. The proposal has also been given a nod by the Uttarakhand Chief Secretary S.S.Sandhu and Air Force officials, according to . Pithoragarh district administration.
"As Airport Authority of India, has started taking least interest in managing the airport due to less commercial viability of this airport. We have  submitted a note  to state Chief Secretary S.S. Sandhu  on  the management issue of the airport," said Pithoragarh District Magistrate Ashish Chauhan.
Uttarakhand Chief Secretary S.S. Sandhu visited Pithoragarh on October 2 to discuss the issue of managing the airport." The Chief Secretary has given his approval to the proposal and assured to discuss it with the state government," said the District Magistrate.
The Naini- Saini airport was constructed in the year 1999 to meet civil requirements of connecting the district through airways to state and national capitals. The airport has a 1600 meters long and 60 meters wide runway which is suitable to run all medium capacity aircrafts.
The first civilian  trial of the airport was completed on October 8, 2018, and immediately after the successful trial, Union Minister Rajnath Singh and the then state Chief Minister Trivendra Singh Rawat landed in the airport by a Heritage aviation company flight.
"The airport has witnessed first commercial flight in January 17, 2019, followed by flight to Hindon airport on October 11, 2019, but the air services were closed from March 20, 2020 after a minor technical error occurred at the airport.
"The main reason of non-operation of this airport seems commercial non-viability and which has discouraged private air companies to operate from here," said an admiNistrative officer.
According to District Magistrate if the airport goes to Indian Air Force, the civil  flights will not be affected." If the deal gets final, a Memorandum of Understanding (MoU) will be signed with Air Force to let civil flights run on the lines of that in Jodhpur, Ladakh and Hindon airports, which are managed by Air Force," said the DM.
Already following  border dispute with China in eastern Ladakh sector, the Indian Air Force has been working to spruce up its defence preparedness in the border areas adjoining China border in Uttarakhand also.
The Indian Air Force also practiced the landing of its' heavy load aircrafts like AN-32 at Chinyalisaur air strip in Uttarakashi district of Uttarakhand this summer. There are plans to upgrade the air strip with infrastructure and ultra modern facilities to counter the Chinese threat.
The handing over Naini-Saini Airport to Indian air Force will also help in bolstering the air capabilities nearer to China border in Uttarakhand.