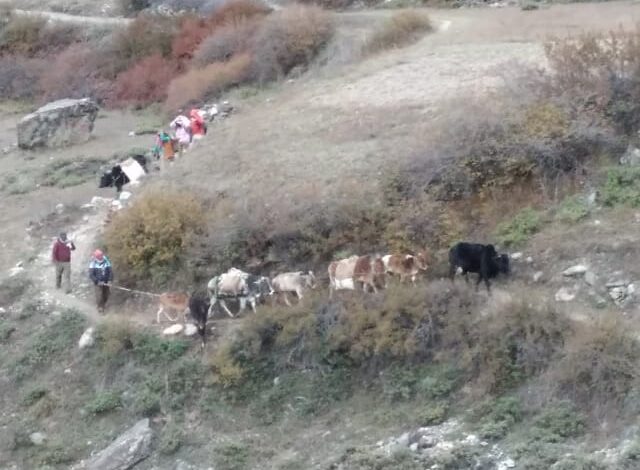 With onset of winter, annual migration from altitude villages started in Pithoragarh district
B.D.Kasniyal
Pithoragarh, Oct 27
The first batch of more than 36 tribal families of Sipu and Marcha, the villages situated in the high altitude of Darma valley of Dharchula sub- division of Pithoragarh district, reached their lower valley residences at Dharchula as the annual winter migration from higher hills has started following snowfall and cold weather conditions.
"We have trekked over nine kilometres from our village to reach the road, from where we  again walked 60 kilometres distant to reach Dharchula valley in past five days  with our animals," said Shanti Devi, Gram pradhan of Sipu village.
The tribal villagers will now remain in lower valleys for over 6 months during winter months. Over 600 tribal families of 34 high altitude villages, traditionally migrate to lower valleys to escape cold months every year in this district.
"The villagers of other 12 villages of Darma valley are on the way to lower valleys in winter migration and will reach lower valleys before November 10, this year," said Jeewan singh Marchal, a former gram pradhan of Marcha village.
The tribal from three tribal valleys of Johar, Darma and Vyans, traditionally migrate to lower valleys in winter to escape from chilling cold." This migration was also related with trade, as the tribals used to collect food grains from lower valley farmers in exchange with Tibetan salt wool, and herbs in the past but the things have now changed after closure of Indo-Tibet trade following 1962 conflict with China," said Shalu Datal, a villager from Dantu village of Darma valley.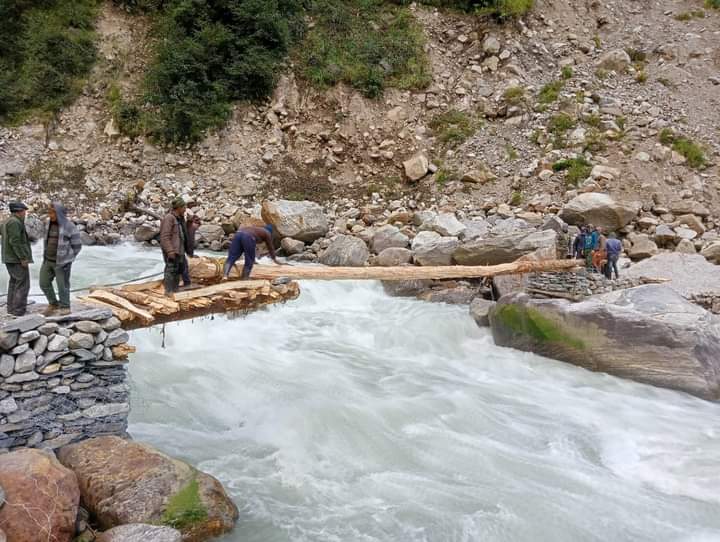 Jeewan Singh Marchal of Darma valley has said that once rich with over 50000 sheep, the Darma valley has only 500 sheep herds at present as most of the villagers have left the profession of wool production." Due to government's apathy towards the profession, the wool production requires more investment than output, as there is no purchaser of wool produce by high altitude villagers," said  Jeewan Singh.
According to Vyans valley villagers, all seven  villages of Vyans valley, at Indo-China and Indo-Nepal border, have also begun the winter migration and will reach lower valleys by November first week." Due to road blockade due to landslides on the Ghatiabagar to Lipu lekh road,and absence of any alternative route, the winter migration from Vyas valley has been delayed this year," saif Tej Singh Gunjiyal, a villager from Gunji village of Vyans valley.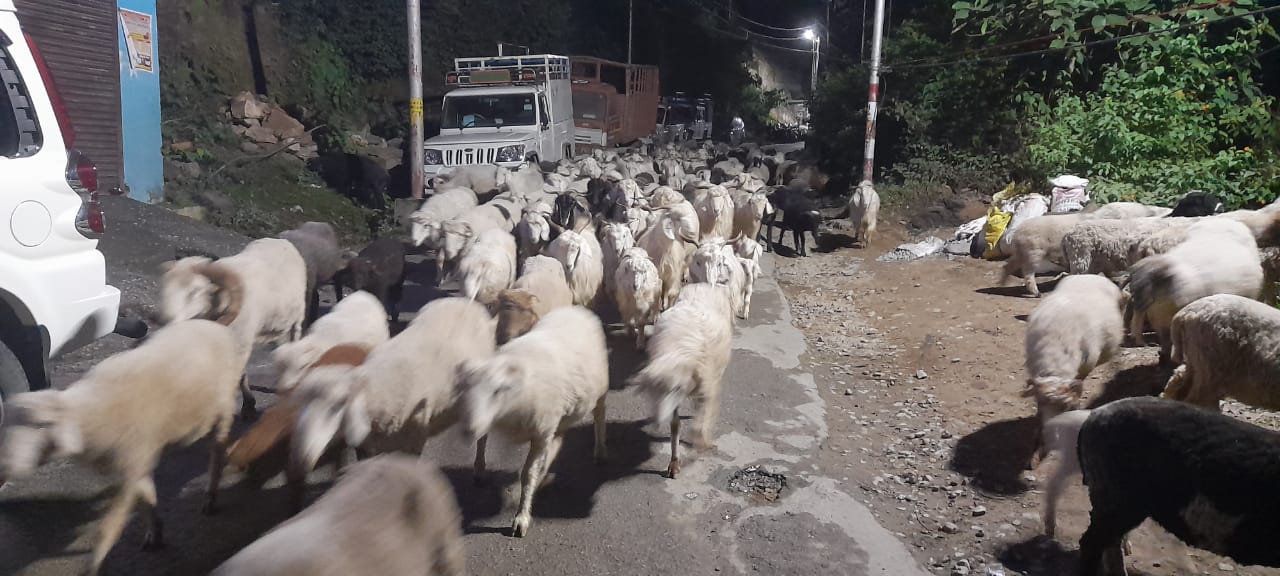 "Over 8000 animal herds including 7000 sheep, from 13 tribal villages of Johar valley of Munsiyari sub division of the district, have already reached lower valleys as they began winter migration from October first week this year," said Sriram Singh Dharmasaktu, president of Malla Johar Vikas Samiti.in Munsiyari.
According to Dharmashaktu, the Johar valley villagers still have over 150 quintal of wool every year but due to closed carding plant at Munsiyari, the villagers are not in position to clean the wool." We have maintained our traditional occupation of wool production but government is not helping us to make it a successfully occupation," said Dharmasaktu."Our villagers will rare their sheep herds in Terai grasslands in winter and will remain there for next 6 months," said the tribal leader from Johar valley.