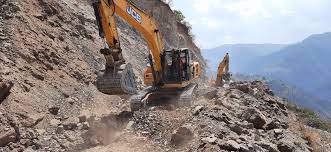 To save 8000 trees, NGT spikes bypass proposals on Tanakpur-Pithoragarh highway
B.D.Kasniyal
Pithoragarh, Oct 29
The two  by-passes, to be constructed on the Lohaghat and Pithoragarh stretches  of Tanakpur-Pithoragarh all weather road, will be re-surveyed again for construction of tunnels since the National Green Tribunal (NGT) has cancelled the present plan to construct the bypasses due to the presence of more than 8000 trees.
Out of three by-passes, proposed on the 150 km long road, these two were  to be constructed at Lohaghat and Pithoragarh stretches of the road, while the third by- pass in Champawat portion of road has invited no objection from NGT.
"The high powered committee, constituted by Supreme Court has cancelled the construction of three by-passes on this road in 2019, due to the presence of these trees, but after the court has again reconsidered the construction of bypasses since  the road being a strategically significant. The process for the constriction of these bypasses started in 2021," said Sunil Kumar, the Executive Engineer of the National Highway project.
Tenders to prepare a new  Detailed project reports (DPR) will now be invited for the construction of these tunnels keeping in view the safety of these 8000 trees."Though the length of both bypass roads is 12 km and 7 km respectively for Pithoragarh and Lohaghat by-passes,  but the tunnel distance will be much less," said the engineer.
According to NH sources, approximately 8000 trees, including 4120 in Lohaghat portion and 4300 in Pithoragarh portion of road were standing on previously survey locations of these b-ypasses. "To save these trees, the NGT has rejected the DPRs of both by-passes," said the NH engineer.
According to NH division, the tenders for tunnels has earlier been invited but  cancelled twice due to non- qualification by any bidder." We hope some experienced bidders will come this time, who will have experience in tunnel construction," said the NH engineer.
The Tanakpur to pithoragarh all weather road, part of "Chardham' all weather road project, was sanctioned by Prime Minister Narendra Modi in 2016 and the construction of the road began in 2017 which was to be completed in 2019, but due to corona epidemic and other technical reasons, the target is to complete it by 2023.