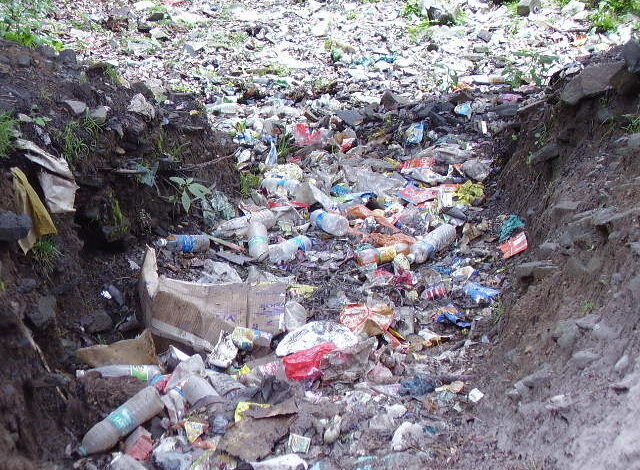 Untarnished beauty of Chopta bears the brunt of plastic waste
Vipin Kumar
Dehradun , Dec 20
An offbeat hamlet Chopta lies on the link road between Kund and Chamoli connecting  the two tourist destinations Badrinath and Kedarnath. Nestled amidst the enchanting hills, dense forest of oaks and Rhodendron, Chopta is an alpine meadow called as "bugyal" in the local dialect. Situated at an altitude of about 2500 meters, Chopta gives a picturesque view of the Himalayas. The trek to Tungnath one of the four kedars is 3.5 Kms. from here taking to a height of 3500 meters. Another climb of 2 Kms. To Chandrashila at 4000 meters gives a 360 view of the Himalayas. It is believed that Lord Rama prayed here. All major peaks like Chokhamba , Trishul, Nanda Devi etc. are visible at very short distances from Chandrashila. The peak of Tungnath is the source of three springs which form the river Akashkamini.
The entire region shows immense biodiversity. Many varieties of Lichens grow here on wood, soil and rock substrates. The plants and herbs found here are used for traditional healthcare medicines, beverages, dyes and insecticides etc. The fibre of these plants are also used for handicrafts, ropes, mats and baskets . Rhododendron arboretum or "Burans" is found on lower declivities while at Chopta, R. barbetum (Pink flowers)  grows in abundance. While the region abounds in natural wealth the consumerist invasion in the form of plastics can be seen littered here and there by trekkers and tourists.
A few temporary way side restaurants who hail from Makkumath or Rudraprayag  provide food and other refreshment to the weary travelers. One can have Chinese food with cold drinks of all brands. Of course, tobacco lovers can have all brands of Gutkha and pan masala packed in shiny laminated polyester films. The green bugyals (meadows) which not long ago boasted of their pristine beauty can be seen littered with colourful packing which are non-biodegradable and non-recyclable. One does not have to blame the shopkeepers who contribute towards a life support system in alpine regions but the tourists who irrespective of the age group visit these regions need to be more responsible to not to leave behind their traces. One needs to understand that "rules only remain academic" unless they are put into practice.
The backyard slopes of these shops are the store house of used plastic bottles, tins, fast food wrappers of many brands which are invariably burnt. One needs to understand that minimally sorted plastics on burning produce dioxins which are known carcinogens. It is worth researching the impact of toxic fumes on the flora and fauna of the region. While there are protests against use of "plastic carry bags" one just cannot ignore its near brethren which are tainting the slopes with hues of all shades and colors. It will be worth considering a buy back mechanism for packings or a sustainable collection system for end use disposal. The tourists on their part should adopt the golden principle of carrying back whatever they take as a token of their respect to the "landscapes of incommensurable values." The tourism department and the beneficiaries of the tourist activity should propagate the message of conservation through prevention which is the first step in the hierarchy of waste management.
(Vipin Kumar is an eminent environmentalist and an expert in plastic waste management)
M.9897492219